Front Page Photo - Photo Essay
'Attempt To Raise Barge Ends'
Photos by Gigi Pilcher - Text by Dick Kauffman
June 22, 2003
Sunday - 11:55 am

Ketchikan, AK - The attempt to raise the barge which sunk in the Tongass Narrows in 1954 has ended. The main body of divers planned to fly out of Ketchikan on Friday, June 20th. The USAV CW3 Harold C. Clinger left Ketchikan on Thursday, June 19th.
The main body of divers of the U.S. Army Corps of Engineers stationed at Fort Shafter, Hawaii arrived in Ketchikan on May 3, 2003.
According to information provided by one of the divers, the team was only able to raise the barge approximately one foot from the bottom of the Narrows. He said the barge was a rusted piece of metal and would spring leaks when air was pumped into the chambers. Each time they soldered a metal plate over a weak rusted area that had sprung a leak and began pumping air again, another leak would appear.
The effort was discontinued on Wednesday, June 18th, after it was determined that in order to raise the barge, the whole bottom of the barge would have to be refitted with new metal plating.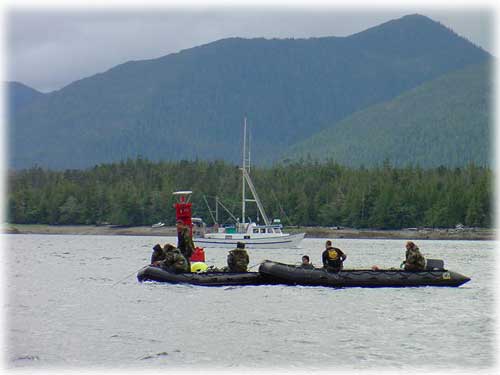 Divers - Wednesday, June 18, 2003
Photo by Gigi Pilcher - Wednesday, June 18, 2003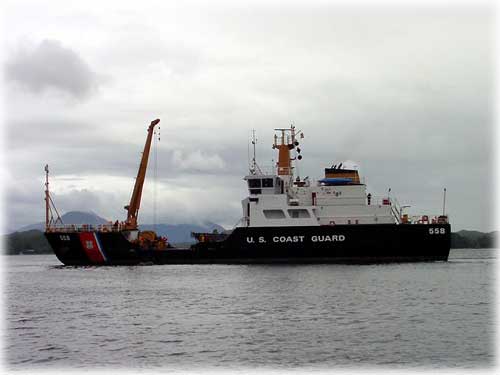 U.S. Coast Guard - Support in the Diving Area...
Photo by Gigi Pilcher - Wednesday, June 18, 2003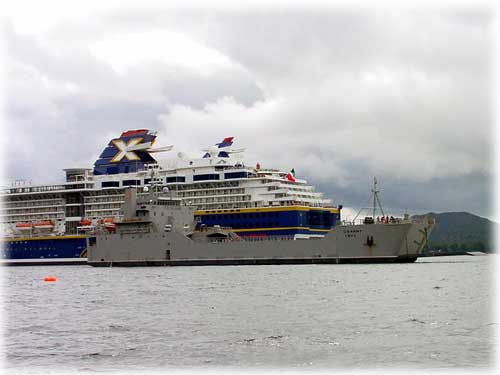 USAV CW3 Harold C. Clinger with a Cruise Ship in the background...
Photo by Gigi Pilcher - Wednesday, June 18, 2003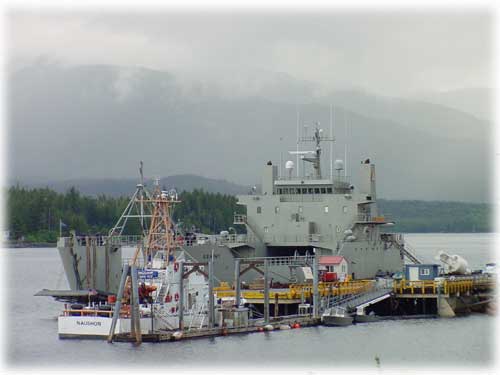 USAV CW3 Harold C. Clinger at the USCG base in Ketchikan -
Making final preparations for leaving Ketchikan on Thursday, June 19th...
Photo by Gigi Pilcher - Wednesday, June 18, 2003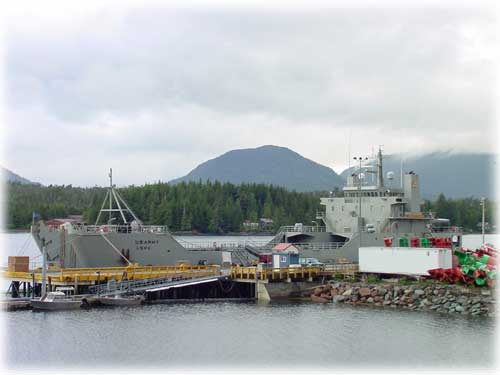 USAV CW3 Harold C. Clinger at the USCG base in Ketchikan -
Making final preparations for leaving Ketchikan on Thursday, June 19th...
Photo by Gigi Pilcher - Wednesday, June 18, 2003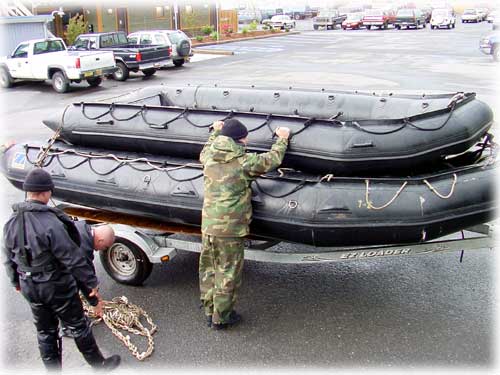 Packing up...
Photo by Gigi Pilcher - Wednesday, June 18, 2003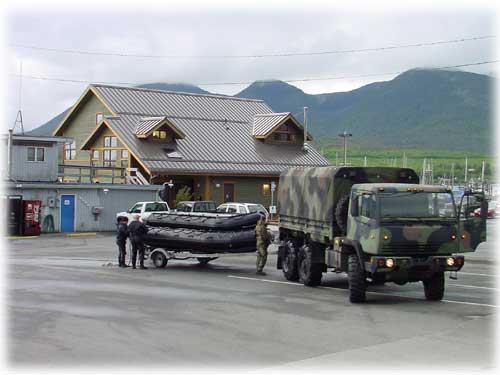 Packing up...
Photo by Gigi Pilcher - Wednesday, June 18, 2003
Related Feature Story:
Barge Salvage Recalls other Attempts: Glitter to gold still lies on ocean floor
By June Allen
2003©Gigi Pilcher

gigi@sitnews.org
Post a Comment -------View Comments

Submit an Opinion - Letter

Sitnews
Stories In The News
Ketchikan, Alaska
webmaster@sitnews.org