Photo Essay
'Celebration of the Sea'
Photos by Gigi Pilcher
May 05, 2003
Monday
Beautiful, sunny weather greeted Ketchikanites Friday evening as they strolled around the downtown streets enjoying the annual Celebration of the Sea Art Walk.
Local galleries participating were: Crazy Wolf Studio, Dockside Gallery, Exploration Gallery, Herring Cove Originals, Mainstay Gallery, McCloud Nine of Alaska, Soho Coho Gallery, Alaska Eagle Arts Gallery, and Scanlon Gallery.
The Ketchikan Public Library held an open house forum on the designs of the new library building, Parnassus Book Store was open with a display of maritime books, the Tongass Historical Museum held an opening reception for the exhibit Some Things Fishy featuring memorabilia, art and photographs celebrating the salmon, and the WestCoast Cape Fox Lodge sponsored an exhibit featuring some of the finest examples of Northwest Coast and Alaska Native art.
CHARR held their annual Spring Wine Festival from 6:30-9:30 pm with proceeds from the event to benefit KRBD Community Radio and the New York Café held their 3rd annual Sea Chanties and Songs from the Sea at 8:00pm.
The events were coordinated by the Ketchikan Area Arts & Humanities Council.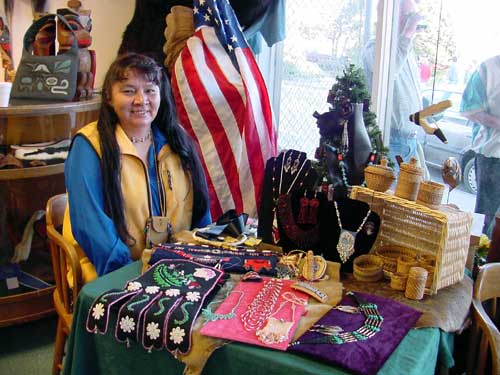 Tsimshian bead artist and basket weaver Bernice Davis is
surrounded by her beading and basket creations. Davis was photographed Friday evening
at Crazy Wolf Studio in downtown Ketchikan.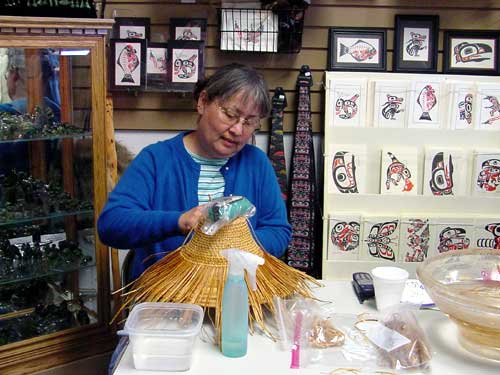 Alaska Native artist, Debby McLevy works on a cedar bark hat Friday
evening at Crazy Wolf Studio during the Celebration of the Sea's annual Art Walk.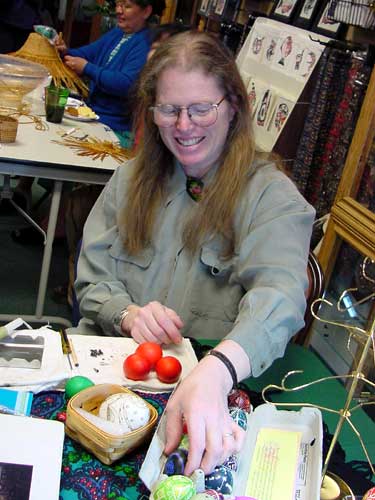 Ketchikan Ukrainian Egg artist, Faith Duncan, demostrates her art at
the reception held at Crazy Wold Studio during Friday's Art Walk.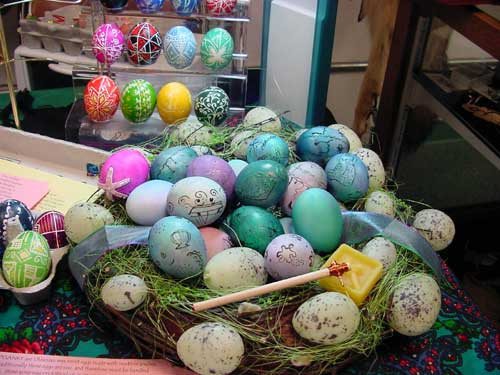 Ukrainian Eggs by Faith Duncan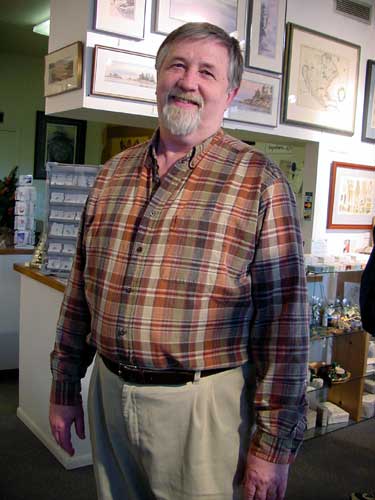 Dave Dosset, proprietor of Exploration Gallery, poses for the camera Friday evening.
Alaska Native weaver Eliasica Timmerman demostrates her talents Friday
evening at Crazy Wolf Studio.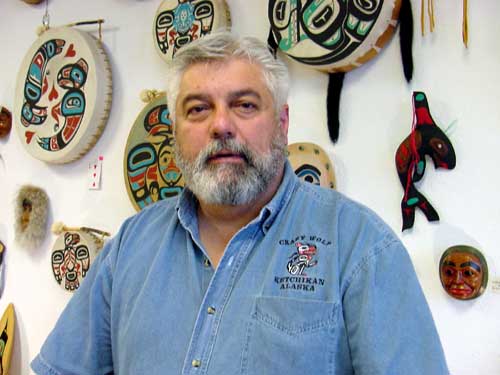 Tsimshian designer and carver Ken Decker greeted Art Walk participants
Friday evening at his store, Crazy Wolf Studio.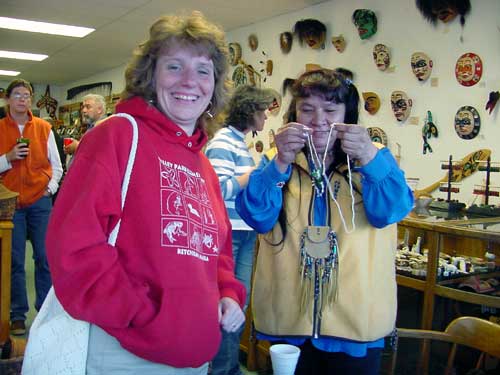 Ketchikan resident and local art affectiondo Bess Clark admires Bernice Davis' art work.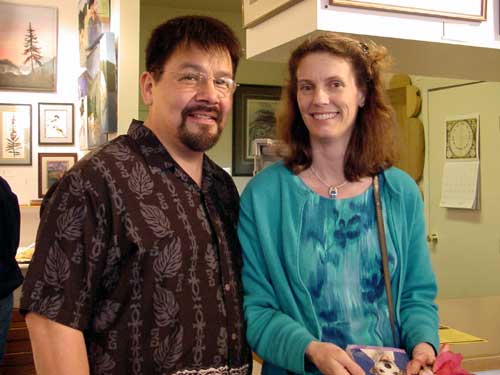 David Jensen and "M.J." Cadle enjoying Friday evening's Art Walk at Exploration Gallery.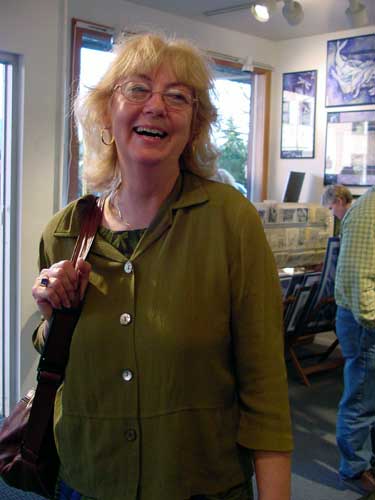 Local artist Sandy Wade smiles for the camera at Exploration Gallery.
Photo-2003©Gigi Pilcher
Post a Comment -------View Comments

Submit an Opinion - Letter

Sitnews
Stories In The News
Ketchikan, Alaska
webmaster@sitnews.org