Ketchikan Kruzers Raise $750 For Big Brothers Big Sisters
by Dick Kauffman

July 07, 2003
Monday - 1:50 pm

Ketchikan, AK - The Ketchikan Kruzers provided an exhibit of 15 of their classy cars on July 4th with the proceeds going to Big Brothers Big Sisters of Ketchikan. According to the President of the Ketchikan Kruzers Clint McClennan, the Kruzers' efforts raised $750 for the Big Brothers Big Sisters' program.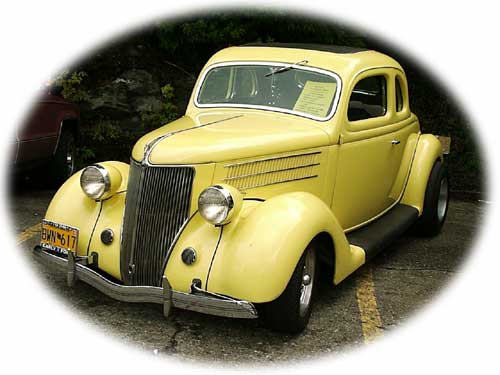 1936 Ford Coupe - Owner Steve Weberg
photo by Dick Kauffman
Gretchen Klein, who is the Ketchikan Coordinator of Big Brothers and Big Sisters' program, thanked the Ketchikan Kruzers for the great fund raiser and for coming out in the rain.
McClennan said the Ketchikan Kruzers plans another exhibit of their cars during the Blueberry Festival. The exhibit is scheduled for August 8th from 10:00 am - 4:00 pm. The Kruzers again plan to donate the proceeds to the Ketchikan Big Brothers Big Sisters' program.
The next meeting of the Ketchikan Kruzers will be at 7:00 pm on July 17th at Frantic Fran's (across from McDonalds). The club will be finalizing plans for the Blueberry Festival car exhibit during that meeting, McClennan said. He added, starting in August the Ketchikan Kruzers will begin meeting twice a month, the first and last Thursday at 7:00 pm at Frantic Fran's. New members are welcome.
Photo Gallery
Some of the cars on exhibit

1968 Mustang - Owner Wade Jardine

1966 AC Cobra - Owner Steve Phillips

1972 El Camino - Owner Ray Bryan

1964 Ford Thunderbird - Owner Clint McClennan

1936 Ford Coupe - Owner Steve Weberg

1990 Chevrolet 454 - Owner Con McClennan

1955 Chevrolet Pickup - Owners Jim & Anita Hall

1949 Chevrolet Pickup - Randy Smestad

1972 Chevelle SS 454 - Rod & Laurel Bray

1982 Corvette - Clint Zartman

1969 Plymouth Barracuda - Tarek Wetzel
Related:
Ketchikan Kruzers - "Gateway Gathering" #2 Show & Shine...
July 15, 2002

Dick Kauffman ©2003
Post a Comment -------View Comments

Submit an Opinion - Letter

Sitnews
Stories In The News