Where Is Palmer, Alaska, Anyway?
Celebrating 'Colony Days'
By June Allen
June 08, 2003
Sunday - 11:45 am

In Alaska's scenic Matanuska Valley during the second week of June each year, Palmer celebrates Colony Days with fireworks, a parade and much self-congratulatory merriment. Palmer's extraordinary claim to fame is that its founding in 1935 was a social phenomenon unprecedented in the history of the United States: the almost instant creation of a sizeable agricultural colony in the wilds of the then-Territory of Alaska!
Today, 68 years later, Palmer - 42 miles north of Anchorage, population about 5,000 - is a quiet little town of one or two primary streets. What might be called the main street is lined for a few blocks with mostly one-story wooden buildings, with a noteworthy percentage of bars, not unlike pre-cruise-ship Ketchikan. Clustered around downtown are unpaved neighborhoods of small salt-box houses with corner windows so popular in the 1950s.
In recent years the town's agricultural history has given way to summer tourism and bedroom subdivisions to accommodate Anchorage's swollen population. But there are still a few farms left, still growing the valley's magnificent crops, plus a small local dairy that makes and markets delicious cheese curds.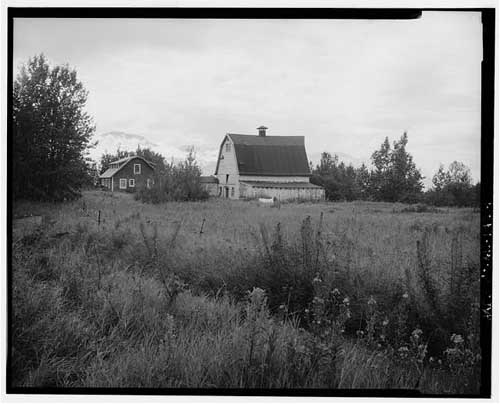 Bailey-Estelle Farm, Glenn Hwy. & Marsh Rd.,
Palmer vicinity, Matanuska-Susitna Division, AK
Documentation compiled after 1933
Historic American Buildings Survey (Library of Congress)
Courtesy Library of Congress, Prints and Photograph Division, Washington, D.C.
---
Back in the first decades of the 20th century when gold fever raged in Alaska, the rich soils of the Matanuska valley were being farmed by only a handful of homesteaders, pioneer farmers who grew crops of astonishing size and nutritional value in the long hours of summer sunlight in the Matanuska Valley. Agriculture seemed less than important, however, to the vast majority of new Alaskans, the men who ate mostly and beans and bacon while they searched for gold. Palmer is surrounded by mountains, the jagged peaks of the youthful Chugach range and the older, more serene range of Talkeetna Mountains where the fossils and even the bones of dinosaurs lie waiting for discovery. And the value of the rich valley was overlooked.
Beyond Palmer was and is the massive Matanuska Glacier feeding the Matanuska River that flows into Cook Inlet. The glacier used to be closer to Palmer; now it has retreated a good many miles but is still a big tourist attraction. There's nothing like a glacier to inspire respect for Nature's creations, then and now.
In those early Territorial days of Alaska, permanent population growth was essential to the survival of the new land. There were a few early but failed government efforts to attract farmers and homesteaders to the Matanuska Valley.. The still-under-construction Alaska Railroad reached the Palmer area by 1916 and, after a hiatus for World War I, additional rail mileage was completed to the potential markets all along the Seward-Anchorage-to-Fairbanks railbelt route. It was time for serious recruitment of farmers to settle in this truly rich valley. But it wouldn't be easy. Back then, how many American farmers in the known bread belt of North America, and in their right minds, would have considered pulling up stakes to travel north to till the soil in the unknown Alaska wilderness of "ice and snow," bears and wolves!
Of those who did arrive early, one was George Palmer, after whom the town is named. He was an early trader and agent for the Northern Commercial Company. Another was homesteader John Bugge, a name familiar in Ketchikan history. Ketchikan's Bugge was a miner; Palmer's Bugge was a farmer, who homesteaded the land where today's Parks Highway begins at it's junction with the Glenn Highway. That property is still called Bugge's field. Were they related? Did they come from the same town in Norway?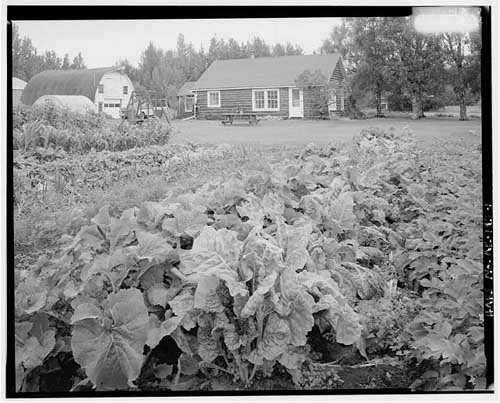 Farm, Glenn Hwy. & Scott Rd., Palmer vicinity, Matanuska-Susitna Division, AK
Documentation compiled after 1933
Historic American Buildings Survey (Library of Congress)
Courtesy Library of Congress, Prints and Photograph Division, Washington, D.C.
---
In 1935 the United States, along with the rest of the nations of the world, was mired in the depths of the Great Depression initiated after the collapse of the stock market in 1929. Among the hardest hit were the farmers of the Midwest, who in addition to suffering from the economic crisis were also watching their very lands blowing away in the violent winds of the Dust Bowl. Even today there is a national consciousness of the tragedy of those years, the bank foreclosures on doomed farms, the parade of Model T Fords laden with furniture and farm families hoping for work, rattling ever westward along rutted roads that hopefully led to California and work.
It was during those first those painful years of the Depression that President Franklin Delano Roosevelt's administration put together an astonishing plan that would recruit settlers, en masse, for Alaska's Matanuska Valley. They would be farm families on "relief" (welfare) mostly in Wisconsin, Michigan and Minnesota. It was part of the president's New Deal recovery programs, a recruitment of individuals and families willing to relocate and farm in Alaska. No one knows what pictures the individual interviewing welfare workers might have painted for the colonist candidates!
In any event, the potential colonists were assured they would be provided with free rail and steamship transportation to Alaska. There they would find temporary camps for shelter and habitation until they could get homes built. Forty acres of fertile farmland for each would be available, to be paid for over a period of thirty years. Farm machinery, equipment, livestock plus other supplies and furnishings would be available on a charge, lease, rental or sale basis. The interest rates would not exceed 3% per annum and payments would not begin until after the harvest of 1940. "Various activities" would be available to colonist families.
In the spring of 1935, almost a thousand people - 202 families - took the government up on the offer and were ready to begin the trek northward. The first contingent of colonists rode the "Pioneer Special" train to San Francisco where they were greeted with a brass band and cheers of excitement. For three days they were feted, they stayed in comfortable hotels and enjoyed their moments of fame. Then on May 1 they boarded the steamship would take them to Alaska. Few if any of these people had even seen the ocean, much less traveled on a ship. It's only possible to imagine the incidents of seasickness, and of worried wives and ship-confined youngsters and cranky babies.
Rebarchek Farm, Rebarcheck Rd., Palmer vicinity,
Matanuska-Susitna Division, AK
Documentation compiled after 1933
Historic American Buildings Survey (Library of Congress)
Courtesy Library of Congress, Prints and Photograph Division, Washington, D.C.
---
The ship docked at Seward on May 6 and the colonists boarded the crowded Alaska Railroad cars for the final lap of their journey. Anchorage greeted the new colonists with a parade and attendant hoopla, and treated them to an "all-Matanuska" dinner. Then it was once again time to board the train for the final 40+-mile lap to Palmer.
It was the first week of May, a time when the Matanuska Valley often experiences a bit of rainfall and cold winds. Exhausted men, women and their excited children disembarked onto a slippery plank-walkway and pathways where mud stuck to their boots and shoes and the valley's famous winds ruffled the sides and roof of their new temporary homes. Those were side-by-side tents, some raised above partial wooden walls, with stovepipes poking out with promises of hot coffee and a warm, dry cot.
On May 23, the men of the new colony gathered together to draw lots for their tracts of land. A large map was hung on the back of one of the tents so the men could see where each tract was located. There were satellite camps near each of the tracts, and after the drawing, the families moved to their new camps, the Palmer camp serving as housing for those who drew tracts nearest the townsite. Then the first shipment of cows and pigs arrived. Another party of colonists was due in July. The work had just begun. But land would be cleared and seeds planted. The end of May is a good time for planting in the valley.
Not every colonist stayed the course. Some gave up and returned home to the Midwest. But most stuck it out. The farms began to grow and prosper. Cabins, homes and the traditional barns in the style of a Grant Wood painting were erected. Today's paintings by local artists feature the few remaining barns, symbols of comfort and plenty - and a nostalgic sense of the past.
A year after the colonists arrived, a road linking Palmer to Anchorage was completed. Commercial Palmer began to grow around the depot on the town's main street. From the beginning, Palmer was a "communal" town! Its first school was completed in 1936 and a dormitory built for teachers. Even today the local utility companies are co-op. The Matanuska Maid dairy products were the favorites in markets across Alaska, winning top honors in national competitions. There was nothing could match Matanuska Maid ice cream!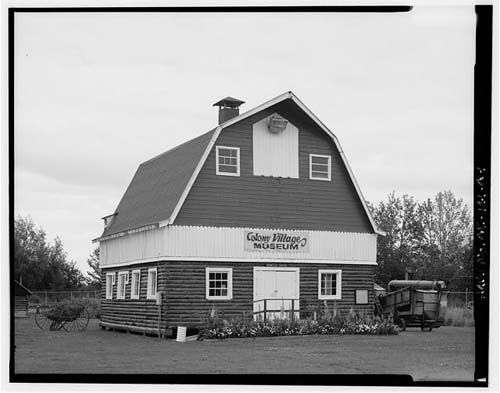 Colony Village,Wireck Barn, Alaska State Fairgrounds,Glen Hwy.,
Palmer, Matanuska-Susitna Division, AK
Documentation compiled after 1933.
Historic American Buildings Survey (Library of Congress)
Courtesy Library of Congress, Prints and Photograph Division, Washington, D.C.
---
It was in 1936 that the first Alaska State Fair opened at the end of August, displaying not only the amazing and now-famous Matanuska vegetables but in 1941 began the competition for the largest cabbage. That 1941 prize winner weighed 23 pounds. The alltime biggest cabbage was grown in 2000, a whopping 105 pounds! The Alaska-via- Midwest colonist women displayed and their descendants still display their skills at preserves and canning as well as handcrafts. Livestock is and was shown with blue ribbons proudly displayed. Anyone who has ever lived on a farm will be right at home among the sights, sounds and smells in the livestock section of Palmer's fairs! Today's fairs, however, are sited on a much larger location than the small acreage that was used for early fairs. And they offer not only the traditional fare but carnival rides, booths, promotions, politicians, and top musical performances.
There was and is still interest in the Matanuska Colony "experiment." In 1960, then-Senator John F. Kennedy of Massachusetts flew over much of the Southcentral region of the new state. What Alaskan can forget hearing him when he spoke on radio, in his Boston accent, about his flight "over the 'Matanooskar' Valley and how he enjoyed the wonders of 'Alaskar.'" He also spoke at the Palmer Fair that year, warming up during his for his presidential bid across the state.
For such a small town, Palmer has a great deal to see and do. A few miles up the highway there is the musk oxen farm where the silky soft wool of those prehistoric beasts is combed to be used by village Native women in knitting traditional patterns in scarves etc. There are the university's Palmer Botanical Gardens, where the study of Alaska's agriculture potential continues. There are fossil-imprinted rocks to be found just up the Glenn highway. There are lakes and water sports and fishing. And the glacier to see!
But what is particularly charming in and around Palmer are the mature native trees in parks and waysides that grow in neat farmer-planted rows. A tidy breed, those courageous, determined Midwestern farmers who settled the Matanuska Valley. And they are the ones their descendents and newcomers honor during Colony Days each June.


june@sitnews.org
Copyright © 2003 June Allen
All rights reserved.
Not to be reprinted in any form without the written permission of June Allen.
Post a Comment -------View Comments

Submit an Opinion - Letter

Sitnews
Stories In The News
Ketchikan, Alaska