THERE'S NO PLACE LIKE NOME
Visit someday if you possibly can
By June Allen

November 06, 2003
Thursday - 12:50 am
Nome, Alaska, population 3,493; located on the south coast of
the Seward Peninsula, the "nose" of the west-facing profile of
Alaska; the town faces south on Norton Sound on the Bering
Sea; Nome is 100 miles south of the Arctic Circle at almost
the same latitude as Fairbanks; unorganized borough;
property tax 12.6 mills; sales tax 4%, and special accommodations
tax 4%; the city founded in 1900, during the Gold Rush of '98;
Native Alaskans about 60%, whites 40% of population.
The story of Nome's first century rivals or exceeds in drama that of any Alaska community in tales of gold-mad highs and the tragic lows of storms, fire, flood and epidemic. With no road connections beyond the confines of the all-but-barren peninsula on which it sits, it suffers - or enjoys - the same isolation as so many Alaska towns. The countryside is beautiful in its own way, but particularly after the black-and-white sameness of winter changes to vivid colors of summer.
Nome stretches east and west largely on a relatively flat stretch of tundra coastline. The waters of Norton Sound are shallow and freight is lightered in. The Snake River, named for its configuration, runs through the town and empties into the sound. Treeless hills roll into the background. The tidewater edge of the city is protected by a 3,350-foot-long sea wall of gigantic granite boulders estimated to weigh a total of 135,000 tons. Some of the individual rocks along the top of the wall weigh nearly two tons apiece. The huge rocks were trucked in from Cape Nome in 1951, to protect the town from occasionally savage winter storms.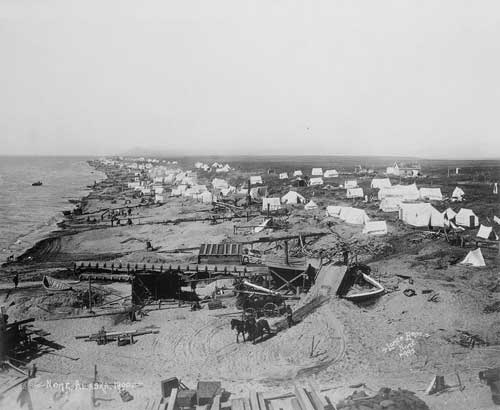 Nome 1900
Image source: Lomen Bros.; United States. Office of War Information. Overseas Picture Division. Washington Division; 1944; Farm Security Administration - Office of War Information Photograph Collection; Library of Congress Prints and Photographs Division Washington, DC
---

Nome's main street, lined with wooden buildings with their hindquarters facing the tide line and their front doors opening onto boardwalks, was home to a number of celebrities or those would become famous. Wyatt Earp, twenty years after he survived the famous Gunfight at the OK Corral, endured Nome's frosty landscape and its collection of miners, con men, prostitutes and gamblers for a year before he sold his prosperous saloon in 1901 and sailed south with $80,000 in his pocket. In 2003 dollars, that would be $1,677,280!
In those first booming Gold Rush years the town had its share of shady characters. Among the worst was one Judge Noyes, a man sent out by the government to sort out the tangle of Nome's mining claims. The infamous judge went to work, organizing the claim documents and saving the best for himself! Another famous name in Nome was author Rex Beach, who wove the Judge Noyes story into his famous novel "The Spoilers."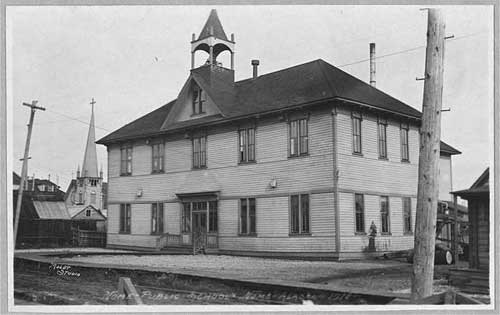 Nome public school - 1912
Photo by Molor Studio. Forms part of: Frank and Frances Carpenter collection (Library of Congress). Gift; Mrs. W. Chapin Huntington; 1951. Library of Congress Prints and Photographs Division Washington, D.C.
---

Also at that same time, a little boy called Jimmy Doolittle was starting first grade in the Nome schoolhouse - an official biography reads "schooled in Nome, Alaska." He would grow up to become the famous U.S. Air Force General James H. Doolittle, the man who early in World War II led sixteen B52s over Japan and rained bombs on Tokyo and three other Japanese cities in retaliation for the Japanese sneak attack on Pearl Harbor four months earlier! The daring mission was immortalized in the 1944 movie "Thirty Seconds Over Tokyo," starring Spencer Tracy, Robert Mitchum and Van Johnson. The general lived to age 97.
For some reason never mentioned in history texts, the Russian owners of Alaska in the first half of the 1800s showed only mild interest in Alaska's gold. And while the Russians were focused on furs, their trading posts and routes along the entire coastline of Alaska provided roadmaps for later American mineral exploration.
And Americans after the Purchase in 1867 certainly showed intense interest in Alaska's gleaming yellow metal! The stories of the 1849 gold rush in California sparked American imaginations and sharpened their eyesight as the westward trek turned northward to the new Alaska. American gold seekers knew from the beginning that there was gold in them thar' hills! There were prospectors roaming the hills and swinging picks at creek banks all over the gigantic new U.S. possession even before the fabled Alaska Gold Rush.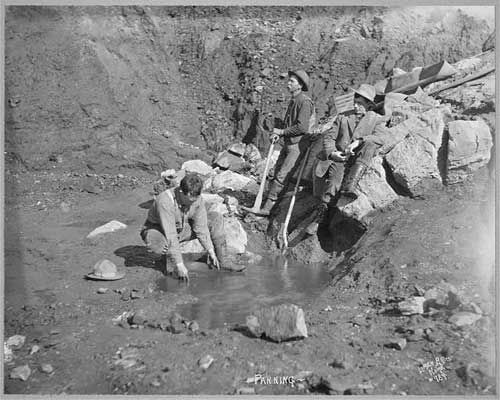 Men panning gold [between ca. 1900 and 1927]
Photo by Lomen Bros., Nome; Forms part of: Frank and Frances Carpenter collection (Library of Congress). Gift; Mrs. W. Chapin Huntington; 1951. Library of Congress Prints and Photographs Division Washington, D.C.
---

And while the "Alaska" Gold Rush of '98 has always been associated with Alaska, it was actually centered in Canada, in the Yukon Territory. There were other truly Alaskan locations boasting discoveries from Juneau to Circle City, but it was to Nome that was the next real "rush" after the Klondike. Gold is a word that was most often associated with Nome, and still is.
In the late fall of 1897 a trio of determined prospectors slogged through the muskeg bordering the south banks of Norton Sound, hoping to head to better pickin's farther north. They included a Swede, John Bynteson; Jafet Lineberg, a Lapp reindeer herder turned prospector, and Erin Lindblom, a Swedish sailor who had jumped ship to become a miner. That fall they were caught by freeze-up at the ruins of an old Russian trading post, long abandoned. They didn't want to winter over too soon, and when the weather allowed, they crossed the sound and landed at Golovin Bay, some 70 miles east of what would become Nome. It was the location of the tiny Eskimo village of Chinik, which boasted a nearby Swedish church and school. The prospectors found only a little gold in the region, but it was enough to spark their interest.
In the spring of 1898 the trio set out westward along the shore of Norton Sound, turning inland at the Snake River. Three miles from the coast they made their strike, a rich one, not far inland from today's Nome! In their excitement they staked claims for themselves, for everybody they knew, and for a few they hardly knew! Word leaked out as it always did and it wasn't long before Nome was jam-packed with people, buildings going up, supplies being shipped in and a new town being created before their very eyes.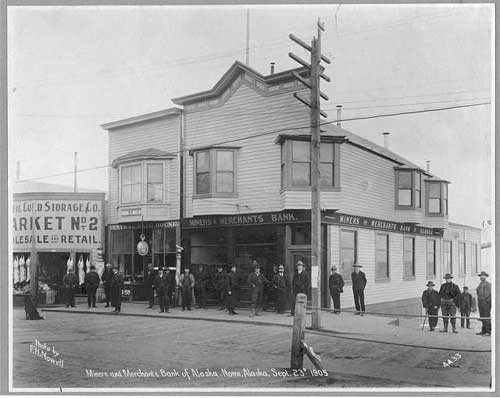 Miners and Merchants Bank of Alaska - Sept. 23, 1905
Nowell, Frank H., 1864-1950, photographer. Forms part of: Frank and Frances Carpenter collection (Library of Congress). Gift; Mrs. W. Chapin Huntington; 1951. Library of Congress Prints and Photographs Division Washington, D.C.
---

But as was almost always the case, the best claims were taken by the time hundreds more found their way to the strike. Then someone looked out at Norton Sound, perhaps visualizing planet-shaping and earth-rumbling ages and eons of the past when the mighty Yukon River must have tumbled and washed the gold of the mountains to the sea. He panned the beach sands and found it rich in gold! Soon every foot of the beach front was staked and claimed and rockers went day and night, sifting out the gold. And then came the day when the claims played out and the few prospectors who saved their riches went Outside and the optimistic others who did not headed for new prospects. In time dredges moved in to chew up the rock and claim the rest of the gold. It was a new era.
The results of all this brief but intense activity made a new Alaska city, Nome. While the 1900 population was counted at 12,488, just ten years later the U.S. Census listed only 2,600. Ten years later it would drop to 852, its all-time low. From that time on, however, Nome experienced slow but steady growth. The new city would survive against all odds.
About 1901 a measles epidemic struck all of Alaska, hitting hardest the children, particularly little Native Alaskan children with little or no resistance to this new-to-them disease. Once that crisis was over, Nome was struck by the terrible storm of 1913. Without a sea wall, the raging water washed in with gale force winds, destroying homes and buildings in its wake. Graves were washed open and caskets floated with the debris. It was a sanitation nightmare, with homeless families camped, praying and suffering. Somehow Nome survived that, too.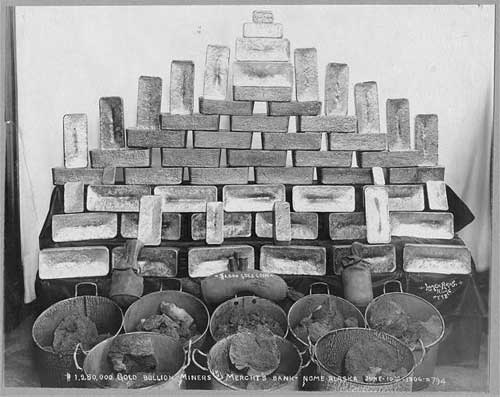 $1,250,000 in gold bullion at Miners and Merchants Bank - June 10, 1906
Photo by Lomen Bros., Nome.; Forms part of: Frank and Frances Carpenter collection (Library of Congress). Gift; Mrs. W. Chapin Huntington; 1951; Library of Congress Prints and Photographs Division Washington, D.C.
---

But five years later the Spanish flu epidemic of 1918 - 1919 wiped out entire Eskimo villages. The whole world suffered from that post-WW I disease that killed in every country, city and village. It struck hard in rural Alaska, including Nome.
Then on an ordinary mid-January day in 1925, the U.S. Public Health doctor in Nome, Dr. Curtis Welch, was summoned by an anxious Eskimo man who told him his two children were very, very sick with sore throats. The children were so ill that they couldn't open their mouths for him to examine them. A day or two later the doctor was called to the home of a white family whose little boy was also ill with a sore throat and raging fever. When Dr. Welch saw the telltale white membranes of diphtheria closing off the boy's air passages, he knew what the town was facing!
The doctor met at once with the town's mayor and city council, explaining to them that they could have a devastating epidemic on their hands and some way must be found to get diphtheria antitoxin to Nome as soon as possible! The serum was found, it was rushed to the Alaska Railroad train, which carried it to Nenana. The railroad turns east at Nenana and heads into Fairbanks. So twenty dog mushers were alerted and waiting to begin the overland relay from Nenana to Nome. The mushers were Eskimos, Russian-Eskimos, Norwegians, Irish and Indians. And the serum arrived in Nome in time to save the lives of dozens and dozens of children, also of every race and nationality. Today that serum run is memorialized in the annual 1,049-mile Iditarod dog sled race that ends under the finish-line arch in Nome.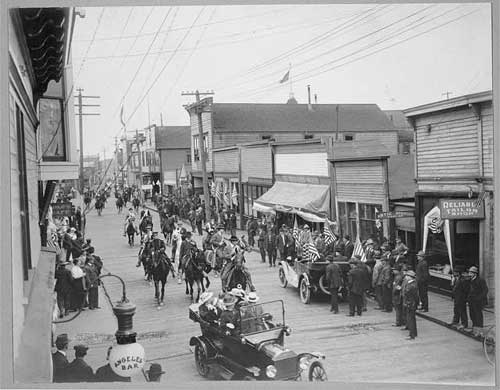 July 4th parade on Front Street - Nome 1916
Forms part of: Frank and Frances Carpenter collection (Library of Congress). Gift; Mrs. W. Chapin Huntington; 1951; Library of Congress Prints
and Photographs Division Washington, D.C.
---

As if the town hadn't suffered enough disasters, Nome was engulfed in a severe fire in 1934 that wiped out much of the business district. In fact, if you look closely you can see where the "new" buildings abruptly change into "old," pre-fire buildings.
Then, it was in the early 1970s that a legendary newsman, the late Albro Gregory - former reporter and/or editor for almost every other newspaper in Alaska - bought the Nome Nugget and became its enthusiastic publisher, fulfilling his dream of being "a real Alaskan." His pranks and hi-jinx in the town on Norton Sound are legendary. Nome will never see the likes again. Oldtimers in Nome can tell Albro Gregory stories all night and either end up laughing, or getting mad all over again!
But then, that's Nome's story - one of the most interesting towns in all of Alaska!
---
This June Allen Story Is Made Possible In-Part By These Sponsors:


| | | |
| --- | --- | --- |
| | | |
| | | |


june@sitnews.org
Copyright © 2003 June Allen
All rights reserved.
Not to be reprinted in any form without the written permission of June Allen.
Post a Comment -------View Comments

Submit an Opinion - Letter

Sitnews
Stories In The News
Ketchikan, Alaska