A STORY THAT 'JUST HAPPENED'
Exploring the Past
By June Allen

January 27, 2003
Monday - 11:00 pm

Some stories are planned, plotted, researched and written. Other stories, sometimes the best ones, somehow "just happen." That was the case with the story of Victor J. Hancock, today of Richardson, Texas. When he discovered a Ketchikan story on Sitnews, Sitnews discovered him, and his story. As a result of this meeting, the Tongass Historical Museum now has an identification of a man in an oldtime photo of the man, some children and a pet bear cub; and Victor Hancock may be able to learn additional details about his family's years in Ketchikan in the 1920s.
In 1924 the Hancock family - Charles Richard and his wife Eloise, infant son Victor and four-year-old Louis, arrived in Ketchikan on the steamer Northwestern. The little family spent its first night at the Stedman Hotel - as so many did on arrival. It was April, and probably raining. The father brought his family north from Oregon to be with him while he managed Ketchikan's brand new general store, the Index Market, on Front Street. It was being organized in a location that previously housed the Index Fish Market. The wooden building stood about where today's concrete Gilmore Hotel is located. The new Index Market was advertised as "the first open market to be established in the Territory!"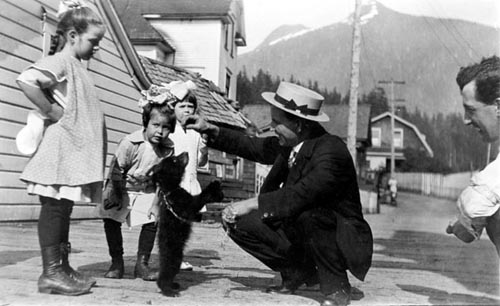 Charles Richard Hancock and his pet bear cub entertain local kids on Dock Street, 1924.
The little girl leaning over the bear cub is Gertrude Kubley, and the girl behind her is Norma Kubley. They were identified by their brother Wally Kubley on Feb. 01, 2003.
Note: If anyone can identify the other two people in this photo please e-mail june@sitnews.org.
Photograph courtesy Ketchikan Museums
---
The Hancocks had come to Alaska, Victor says, because his father felt at the time that his future lay in the north. In Oregon, the couple had been living in the little river town of Coquille. Seventeen miles to the west lies the town of Bandon at the mouth of the Coquille River and one of southern Oregon's popular seaside recreational sites. Today the area is largely agricultural - boasting its old homes, its cranberry crops and Bandon's historic lighthouse - and it is a popular visitor destination. Historic street scene photos of the two towns show them looking much like street scenes of Ketchikan of the same era - wooden buildings stacked closely together with false front facades and transom windows. The Bandon area is a little like Ketchikan in the salt air, the fishing boats, the foggy days, the rain and the smell of the ocean.
Websites for the two Oregon towns have history sections labeled "yet to come, as soon as someone writes them." In conversations with young Chamber of Commerce contacts, they mentioned that there are a number of old sawmills in the area. The old Roxy Theater in Coquille has been rebuilt and renamed The Sawdust Theater, which houses annual melodramas about the area's past. Oldtime Oregonians connect the towns' names with an earlier era of logging and timber products, an era that included the 1920s. It was a prosperous time and then Bandon suffered a devastating fire in the mid-20s, one of the residents recalled.
When the Hancocks arrived in Ketchikan that spring of 1924, they settled on Pennock Island. Victor Hancock has a snapshot of himself and his older brother Louie posed there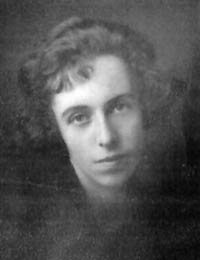 Eloise Jennings Hancock
1900-1924
Photograph courtesy Eloise's son,
Victor Jennings Hancock


behind a restraining fence. It must have been a lonely existence for Eloise Hancock after husband Charles boated over to town to get the new Index Market ready for its grand opening.

Ketchikan in the 1920s was enjoying a period of welcome prosperity in the little town on Tongass Narrows. Canneries were steaming and the docks were lined with seiners, trollers, and halibut schooners. The canneries and cold storages were booming almost year-round. There were movie houses, dance halls, bowling alleys, card rooms - and Alaska's rowdiest red-light district - for entertainment. And even though Alaska as well as the rest of the nation was in grips of Prohibition, there was no shortage of places in Ketchikan to find a bottle of good Canadian whiskey or a clanking gunnysack full of home brew. The newspaper carried several pages of movie news about the latest scandals and hi jinx of Hollywood's idols and short wave radio was a burgeoning hobby - although the town's first radio station would not go on the air for another two years.

The economy was booming. Nels Thoreson and Mike Legaz were the partners behind the open-front Index Market venture. They planned to feature "cube formed butter" and aisles with space for a delicatessen, fresh produce and fish. The old building was being remodeled to extend the store space farther to the rear. A formal grand opening was planned for Saturday May 3, 1924.

Four months after the market's grand opening, Mrs. Hancock died from a heart condition linked to her pregnancy. A story in the Sept. 12, 1924, Ketchikan Chronicle notes: "Although Mrs. Hancock has not been feeling very well for the last few days, she appeared to be in good health and little fear was felt for her until late yesterday afternoon when she visited a physician. Her condition was then so serious that she remained under his care until death occurred" at 2 a.m. She was 24 years old. Her funeral was held in the Christian Science Reading Room and she was buried in Ketchikan's Bayview Cemetery.

A classified ad appeared in the Ketchikan Chronicle later the same day of Mrs. Hancock's death, stating: "Seeking refined mature woman to care for two infant children" and gave the phone number of the Index Market. Four days later there was an ad that said "Young colored girl wants position caring for children." The following day neither ad was in the paper and it's assumed that the parties connected and the boys had a caregiver. Perhaps the children were moved to town from Pennock Island then. Victor Hancock says he's found several phone numbers for his father in old Ketchikan directories and he assumes "We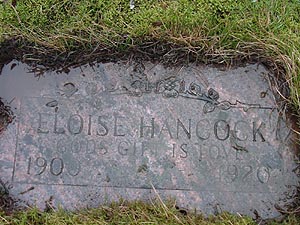 "Eloise Jennings Hancock, 1900-1924,
God's Greatest Gift Is Love."
photo by Gigi Pilcher


apparently moved more than once in Ketchikan," he says.

In December of 1925, The Index Market was sold to new owners and Charles Richard Hancock would become manager for them, in a new location and under the name of The Success Market. Adjacent Index Market property owner, businessman Patrick J. Gilmore was getting ready to build his modern, concrete Gilmore Hotel and needed the lot. So business men Chester Leask and Ted Ferry bought the Index Market.

(Ferry was the father of fondly remembered young Ted Ferry who carried on the groceryman tradition for many years and was Mayor of Ketchikan from 1985-1991. Ketchikan's newest civic structure, the Ted Ferry Civic Center, is named in his honor.)

From the Ketchikan Chronicle of Dec. 22, 1925: "Negotiations were completed Saturday whereby Ted Ferry and Chester Leask became the owners of the Index Market. [Former owner] Mike Legaz, in business in Ketchikan for many years, has not announced what plans he has made for the future. Mr. Ferry, who is owner of the Quality Grocery in Newtown, will be in charge of the Index Market and Axel Koskey will act as manager of the Quality Grocery. Mr. Ferry and Mr. Leask do not plan any changes in the Index market until next year, they state."

And on January 7, 1926, a clipping states: "Negotiations were today completed whereby Theodore Ferry, proprietor of the Quality Grocery and the Index Market, leased the entire buildings of Mrs. Elsie Robinson immediately opposite the Index Market. Mrs. Robinson today commenced to move her stock and fixtures into her store on Mission Street."

There are fewer mentions of the Success Market, managed by Charles Richard Hancock, in old newspapers. This much is known: The phone number was Red 63 and the market's ads stated "This market sells for cash." Cash and carry was not a general practice in Ketchikan until the 1950s!

In 1928 Hancock and his children moved to Seattle, reason unknown. The father met and married a woman who had three children of her own and together they had two more, so Victor and his brother Louie grew up in a large family. From Seattle the family moved to the San Francisco area and harvested fruit. This may have been the hard years of the Depression. In time Victor's stepmother started a boarding house and his father bought a small fruit juice supply company and with the help of the boys in the family, was modestly successful.

In 1942, World War II raging, the boys joined the service. In April of 1943 their father, Charles Richard Hancock, died of a heart attack. Victor and his brother both became pilots. Victor was a pilot in Corsica and Italy, "flying the wonderful B-25s. I came home undamaged except for a badly battered ego when I realized I was scared for the first time in my life." His older brother Louis was a P-38 pilot in the South Pacific and was shot down on January 6, 1944.

Victor Hancock never lost his steady love and deep affection for his mother, a woman he knows only from a single photograph and the few stories his father told him. Victor thinks that his father did not talk about Eloise out of respect for his new wife. But Victor has kept her memory alive. Twice he has journeyed to Ketchikan to sit beside her grave. On one of the trips he visited the archives at the museum and searched through old Chronicles for mention of his family. In Juneau he obtained a copy of his mother's death certificate.

In 1959 he ordered a granite marker made and had it placed on his mother's grave at Ketchikan's Bayview Cemetery. It reads "Eloise Jennings Hancock, 1900-1924, God's Greatest Gift Is Love."

In 1924, the year Eloise died, Ketchikan's American Legion Post #3 members imported some mountain ash trees from Wrangell and planted them at the cemetery, trees that produce summer shade for visitors and bright red-orange berries in the winter to attract flocks of birds that cheer the silent winter landscape. Those veterans of World War I knew what death meant and the love that remains alive in spite of it.



june@sitnews.org
Copyright © 2003 June Allen
All rights reserved.
Not to be reprinted in any form without the written permission of June Allen.
Post a Comment -------View Comments

Submit an Opinion - Letter

Sitnews
Stories In The News
Ketchikan, Alaska