'The Elders' of Mission Street
Gone but Not Forgotten
By June Allen

October 27, 2003
Monday - 1:30 am

Times change, especially lately and especially in the heart of downtown Ketchikan. The Bon Marche store that was a city center landmark since 1913 moved to the Plaza Mall back in 1990 and then closed its doors for good in December 2001. Now the Bon building is facing a bigger change. The Ben Franklin dime store next door to the Bon - and a fixture on Mission Street for 67 years, is closing its doors in just a few days. Both losses are indications of a new era, a new economic base, a new century.
Across Mission Street from the former Bon and dime store sites, the venerable old St. John's Church, the Seamen's Center and the Coliseum Theater still anchor the "historic" Ketchikan. But on the water side of Mission a "new era" will be evident next season when those beloved old businesses become something else, something mostly related to tourism. Changes are painful for oldtimers, but changes are nothing new.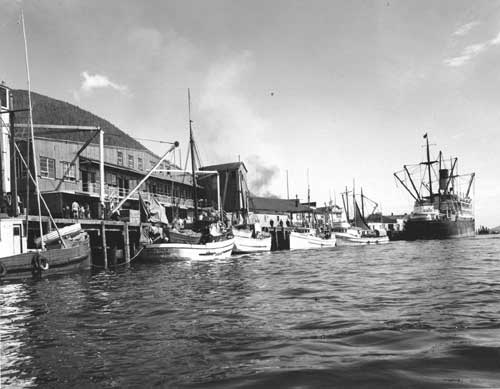 Ketchikan Waterfront - 1947
Creator: Haddon, E. P. - Contributor: Alaska Resource Library and Information Services
Courtesy U.S. Fish and Wildlife Service
In its century of history, the character of Ketchikan has altered with each economic, demographic, and technological change. The mining supply center of 1900 changed with little angst into the seasonal salmon fishing/cannery industry, and at the fisheries' decline by mid-century, the town welcomed the year-round timber products industry and its pulp mill. Those heydays of each are gone, but not forgotten.
Today, the tourism industry has taken the lead in Ketchikan to provide the economic stimulus that keeps the city afloat. Ketchikan has always, even before the day of its formal founding, been a tourist stop along the famous Inside Passage. But it wasn't until the early 1970s that tourism started its rise of becoming the cruise ship glamour industry of today. Comparatively small scale at first, with just a few large ships and several smaller ones calling at Ketchikan each week, the industry has grown to comparatively gigantic proportions.
More than a century ago, Ketchikan's original docks, streets and buildings were all built to serve the needs of the times. In its Gold Rush-gold fever beginnings, the town was like many Alaska mining camps of the time that sprouted tents and shacks as a supply base for prospectors - primitive and temporary. But Ketchikan's optimistic founders recognized the deepwater site's potential and applied for incorporation as a city.
In that first year of incorporation, 1900, the fledgling city boasted a steamship dock. Front and Dock and parts of Main Street were already lined on both sides with narrow-frontage, two-story buildings crowding shoulder to shoulder along partly plank and partly sand and gravel stretches wide enough for freight and dray wagons. There were two assay offices and the shingles of a number of lawyers, their services needed for filing claims and determining boundaries etc.
Northbound ships called regularly. Horses pulled heavy freight wagons to construction sites. The backdrop of spruce and hemlock mountainsides echoed the ring of hammers, the buzz of saws and the whistles of calling ships. Ketchikan bustled with optimism, its saloons, card rooms and dance halls vibrating with the whoop and stomp of prospectors' knee-high lace-up boots, the quieter tread of gamblers and the jovial banter of saloonkeepers raking in dollars. The fever of the Gold Rush soon faded, but Ketchikan was hearing of significant strikes of gold and copper on Prince of Wales Island.
And there were still a few then-promising prospects right on Revilla Island, especially John Schoenbar's gold mine close by on upper Ketchikan Creek. For Schoenbar's sake, in1904 today's Mission Street - called Helm Street then - was created eastward from Main to Bawden, along the beach, planked over the tideland for the first leg of a tram-line to the Schoenbar mine on upper Ketchikan Creek. Part of the width was dedicated to rails for the tram; the other side was for general traffic and pedestrians.
Among the new town's businessmen was Louis Hanson, a naturalized Norwegian gentleman who in 1900 opened his patriotically named U.S. Store on Front Street. It was in the building that years later housed the Fo'c's'le Bar. He and his bride lived upstairs where their children were born. Inga Brinck, now a resident of the Ketchikan Pioneer's Home, was one of those children. Hanson prospered and looked to the future, making plans for a store much larger than his Front Street shop.

The Bon Marche

By the time Hanson built the original section of his Bon Marche in 1913, mining was giving way to fishing and canning. The water side of that block of Mission Street was studded with piling on which stood a small clothing store at the corner of Main Street, then a pool room and tobacco shop, then an open spot wide enough for a boat to enter, after that the new Bon Marche, and on the Bon's east side the cabin that housed the Episcopal Indian School. All these buildings too - except the school - boasted second stories for apartments. Behind all these structures was Ketchikan Spruce Mill's dry kilns, piles of lumber and a little farther over, the creek's low-tide baseball field.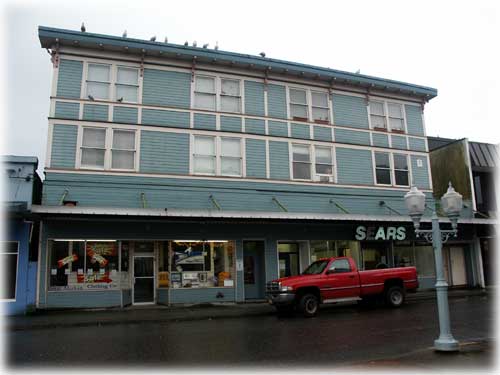 The Bon Marche building on Mission Street ... October 2003
photo by Dick Kauffman

Times were good. There was not only a cannery and cold storage just south of town but cannery worker and cold storage housing as well as growing neighborhoods in every direction. Ketchikan's U.S. Census population of 459 in 1900 had grown to 1613 in by 1910. The surrounding region included other canneries that headed to Ketchikan for supplies.
Hanson carried general merchandise, everything from housewares to rubber boots and oilskin raingear, yard goods and the new-fangled "ready-made clothing" that was gaining popularity at the time - to the dismay of tailors and seamstresses. He planned to add a second section to the store plus a third story, a goal accomplished in 1919. A long stairway leading up to the apartments bisected, and still does, the two sides of the store. The expanded business had ample space for a full grocery store.
The 1920s shimmied into Ketchikan with even more fisheries expansion, and with the arrival of the skippers of the halibut fleet who settled and built in Ketchikan. In those chaotic days of the Roaring Twenties, Ketchikan's shiny rain-soaked planked streets boasted scarcely-disguised speakeasies, bootleggers, and ladies of the evening ­ not all confined to Creek Street - who were moving boldly into hotels and some of those second story apartments right downtown. And with prosperity came competition and other stores moving in, even catalog outlets for Sears and Montgomery Ward as well as other general stores. By 1930 the population had grown to almost 4,000, a big city by Alaska standards. And it was all due to salmon - Fisheries Ruled!
During those competitive years, Louis Hanson thought the Ketchikan Chronicle played favorites with his competitors! So he decided he'd start his own newspaper and even bought a press. But he had no place to put it. So he decided to build a basement under the Bon Marche, in spite of the tides! It was a backbreaking job, but he did it! At first, in the 20s, the new basement was a newspaper office. The press was moved in and efforts were made to launch a second newspaper failed. It wasn't until the early 1930s that newspaperman Sid Charles approached Hanson and leased the basement premises. And from that business arrangement came today's Ketchikan Daily News.
The 1930s. It wasn't until about 1932 that the devastation of the 1929 stock market crash - the Great Depression - reached Ketchikan. And when it hit it hurt. Money was scarce and the prosperity of the '20s was a thing of the past. Alaska had the advantage of being able to hunt and fish and there are Ketchikan residents today who proclaim that they ate so many clams their stomachs could tell if the tide was in or out! It was also a time when the fisheries were first showing that over-fishing was a possible problem. The richness of the resource had definitely waned. Spirits were down as low as incomes.

The Ben Franklin store

The history of the Ben Franklin store is quieter, shorter, more serene, as were the years of the Great Depression. Ketchikan residents Jess and Mae Ison had heard of the popularity of dime stores. They submitted a request for a franchise and ploughed through piles of paperwork. And waited. Then in 1936 the couple received the franchise they had hoped for and opened a Ben Franklin store in the building next door to the Bon Marche. No one today seems to know what was in that building before that time. One guess is that it was home to Bucey Motors. There was also a smaller building next to it that one time was the Spruce Mill office. Does anyone remember more?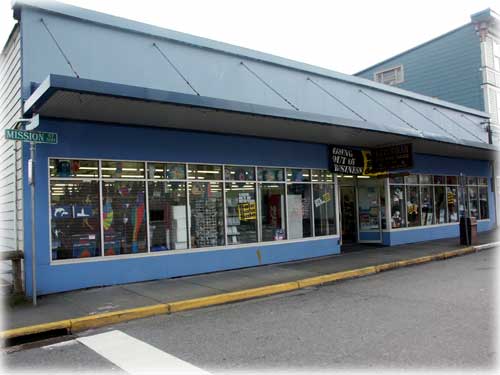 Ben Franklin store... Sept. 2003
photo by Dick Kauffmsn

Dime stores were "the thing" in those Depression years! In 1931 a song by lyricists Billy Rose and Mort Dixon dominated the airwaves. It was called "I Found a Million Dollar Baby" (In a Five and Ten Cent Store). Dime stores were wildly popular among Depression shoppers. Christmas shopping could be completed for a grand total of perhaps two or three dollars. A bottle of Blue Waltz perfume in a classy glass bottle sold for 15 cents; Evening in Paris scents were only pennies more. Coveted costume jewelry pieces were in the 10 ­ 50 cent range. There was such a variety of merchandise that it is no wonder that offshoots such stores were later called "variety" stores.
Dime stores "work" in any town, be it a mining center, a cannery, or a pulp mill town. The Ben Franklin store missed the mining era, came in near the demise of the cannery era, and flourished during the pulp mill era. Who's to say how the tourism era affected it. Whatever, it will now become one of Ketchikan pleasant memories ­ the popcorn and feeding it to the gulls and pigeons, the Christmas decorations, the yard goods, the notions department where it was possible to find anything from seam binding and rick rack to quilt batting, frogs and bodkins ­ and the pleasure of watching the mechanical horsey and the awe-struck face of a three-year-old rider holding on for dear life!
Again, times change. First it was heavy denim pants, high boots and prospectors' packs. Then it was oilskins, watch caps and rubber boots. After that came red suspenders, cut-offs and caulk boots. Now it's matching jogging suits, cameras and cross trainers. That's the way it is. It happens. Not everyone likes it. But times change!
---
This June Allen Story Is Made Possible In-Part By These Sponsors:


| | | |
| --- | --- | --- |
| | | |
| | | |


june@sitnews.org
Copyright © 2003 June Allen
All rights reserved.
Not to be reprinted in any form without the written permission of June Allen.
Post a Comment -------View Comments

Submit an Opinion - Letter

Sitnews
Stories In The News
Ketchikan, Alaska