Memories of a Lifetime in Ketchikan
A story about Ralph M. Bartholomew
By June Allen
August 20, 2003
Wednesday

There are two kinds of history. There's the kind we had to study in school that consisted primarily of names, dates, battles, and famous people - facts we had to remember at least long enough to take exams. And then there's the other kind of history, in which someone who "lived it" tells the tales of his or her years, stories woven with authenticity, humor, color and the sights and sounds of pleasant memories - stories that stay with us.
A past master of this latter art of remembering fascinating history was the late Ralph M. Bartholomew (1923-1997), boyhood member of the Millar Street Hill Gang, marbles champion or at least a contender, White Cliff and Main School graduate, fish trap watchman, radio operator, fishing boat deckhand, WWII vet, pilot, Ketchikan Fire Chief, transfer and storage company owner, three-term Gateway Borough Assembly member and borough mayor 1990-93. Ralph was born in Ketchikan, lived in Ketchikan all his life, and enjoyed every minute of it!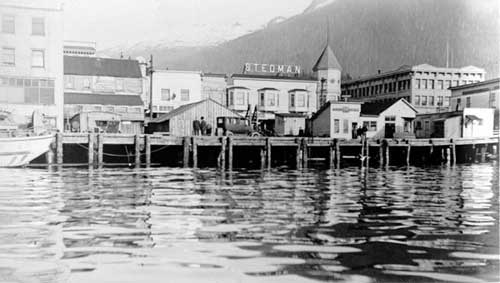 Ketchikan Waterfront
Donor: Estate of Ralph M. Bartholomew, Ketchikan Museums
---
The first Bartholomew in Ketchikan was Sunny Point Cannery superintendent Sam Bartholomew, who convinced his younger brother Arthur and Arthur's teenage son Ralph Arthur to come north to work in the cannery. It was 1915 when the new Bartholomews arrived. Bustling 15-year-old Ketchikan had a population of about 2,000 that year, but it was growing by leaps and bounds. From the water, Ketchikan would not have looked that much different from what it does today. In the foreground, weathered-gray wooden buildings perched atop docks, and houses clinging to the steep mountainside backdrop of the city. In 1915, the Bartholomews were welcomed by rain and wind whipping the rhythmic clangs of piledrivers and the whines of the spruce mill's saws. They were the sounds of prosperity. Giant logs were needed for fish traps and lumber was in demand for fish boxes. It was just a few years earlier that the floating fish trap had been invented, contraptions that introduced the great salmon cannery boom of the early century that put Ketchikan on the map and swelled the town's population.
The youngest member of the family, Ralph Arthur, worked at the Sunny Point cannery like his father and uncle and then, in 1917 he was called to serve in World War I. On his return he got a job running a local mail boat and became a charter member of the American Legion Ketchikan Post #3. It was on one of his mail boat runs that he met his future wife, Laura MacLeod, the daughter of a Juneau-Douglas charter boat operator. The up and coming Ralph Arthur became wharfinger (wharf manager) of the Heckman dock, married his sweetheart, and the newlyweds moved into the apartment upstairs over the warehouse.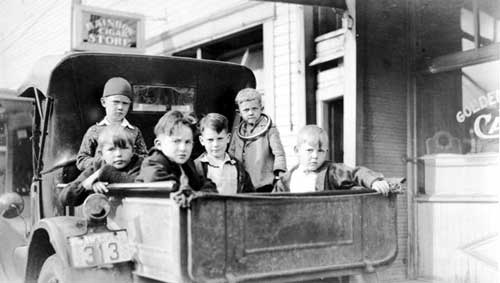 Boys in back of pickup truck, 1930
Ralph Bartholomew, Jim Jensen, Dick Wyckoff, Bill Ersking, Bud Beck, and Stafferd Hall
Donor: Estate of Ralph M. Bartholomew, Ketchikan Museums
---
Ralph MacLeod Bartholomew was born in 1923 in the Catholic Little Flower Hospital on Bawden Street when it was brand new, a choice his mother made between it and the Mission Street Arthur Yates Episcopal Hospital, which soon after closed its doors - no connection between the two events. Two years later little Ralph's sister Bette was born and the parents decided a dockside warehouse was no home for a growing family. So in 1925 Ralph Arthur bought the Sparhawk house now numbered 1256 Sayles Street, in the then-new part of town spreading westward. At the time the one-and-half-story house was built - Ralph Arthur recalled that it was way back about 1903 - it was the first home on that part of the hillside. He loved that house with open view of the sky and with the clothesline on its huge grassy yard, his family's first home.
He told the story of how E.E. (Ed) Sparhawk had carried the lumber, nails and each window for the house up the hill on his back! Sparhawk's older sister Adah had married J.W. Young, first Saxman teacher in 1896 and later Newtown merchant. Young's brother-in-law Ed Sparhawk became a merchant as well as a dentist, owning the Newtown general store located in what is now the farthest west section of the First City Saloon. When Ed and his ailing wife moved south, his older, spinster sister, Minnie Myrtle Sparhawk, took over the store, operating it as M.M. Sparhawk's until 1937.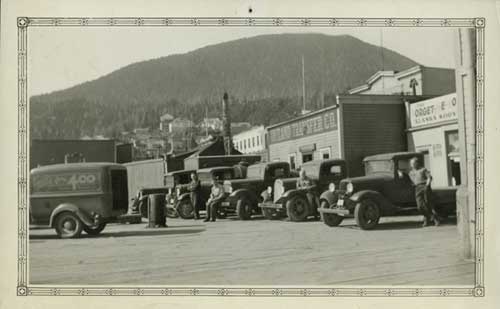 Ireland Transfer on Heckman Wharf
Donor: Estate of Ralph M. Bartholomew, Ketchikan Museums
---
The old house on the Millar Street hill was home to future mayor Ralph M., the site of his boyhood friendships, projects and escapades. He remembered building a rickety club house that had a sign above the door reading "Girls Keep Out," but thinks he must have swiped that sign idea from a movie. All the kids up there called themselves the Hill Gang. "Gang" was not a "bad" word in those days, it was simply a badge of honor describing the kids who bunched together in each little neighborhood - and every kid knew which gang every other kid in town belonged to. Ralph's marbles competitor, Ted Ferry, lived just down the hill and belonged to a different gang. The only "bad" gang was the Charcoal Point Gang, consisting of Norwegian kids new to town and therefore considered "tough."
Ralph recalled that it seemed to him that there was more snow and ice when he was a boy. He said some of the braver kids would put on their ice skates and zoom down Gorge Street and then on down Sayles. He didn't have the nerve to do that, he said, but with his sled he'd start at the top of Gorge and zoom all the way down to Ferry's Food Store on Tongass Avenue. Of course there wasn't a lot of traffic back then, he said, and drivers were cautious on the slick plank streets in bad weather. He remembered the time Mary Smith in her Smith Plumbing truck hit his sled and knocked him out cold! "I woke up at home after the kids carried me in, but I wasn't hurt," he said. No helmets in those days.
Ralph started kindergarten at Main School, which used to be atop the Grant Street hill downtown. His teacher was Miss Helen Wilkins, who one day took the class down the 127-step Edmond Street stairway to the tideflats at the mouth of Ketchikan Creek - the tideflats being the town's first "airport." The occasion was the never-forgotten 1928 landing of the first airmail plane that came to Ketchikan, a Loening amphibian. Ralph said that incident probably started his fascination with and love of airplanes and flight. Miss Wilkins, incidentally, later married school superintendent Tony Karnes and, about 1990, she attended a Ketchikan reunion held in Seattle, still "chipper as a bird." Ralph spent his next six years at the new White Cliff school.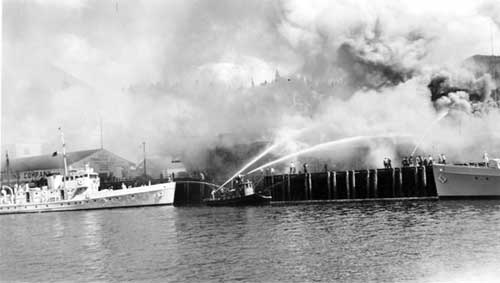 Ireland Transfer on Heckman Wharf on fire
Donor: Estate of Ralph M. Bartholomew, Ketchikan Museusm
---
He said he was in the third or fourth grade when Charcoal Point School was closed and the dreaded (but harmless) toughies moved into White Cliff. Charcoal Point was a geographical point where today's state ferry terminal is located. Up until Alaska's Bone Dry Law closed it in 1917, Dynamite Joe's Roadhouse was located there. (This same Joe, last name ?, opened the first Marine Bar on Water street after the end of Prohibition in 1933). The large old roadhouse building sat empty and musty. But there was to be a use for it.
Shortly before 1920 a population increase had begun, brought in with halibut fishermen and their families from the Seattle area moving north to take advantage of the transcontinental railhead at Prince Rupert, B.C. Families mean children, and Ketchikan's school population had exploded. There was one problem, however. Many of these children didn't speak English. Teachers were not prepared to deal with this. To make a long story short, Dynamite Joe's empty roadhouse was then swept out - little more - and became the "temporary" Charcoal Point School - outside the city limits and beyond the city's responsibility, and financed by the Territory of Alaska. Classes were held in the bar and card room. The former dance hall became the play room and music was provided by the old player piano. By the mid-'20s, the old wooden Main School was being replaced by a larger concrete building with "room for all." Overcrowding solved, problem solved. So Charcoal Point was closed and the Norwegian kids moved into White Cliff.
Young Ralph had attended St. John's Episcopal Church with his family but began to have troubles because he had to kneel. "It bothered my knees something awful so I complained to my mother and she let me go to the Methodist Church for Sunday School," he said. Not having to kneel was kinder to adolescent bones of rapidly growing boys. But Ralph admitted that although he went through Sunday School, as a teenager he was doing other things on Sundays. Young Ralph was not a saint. He admitted that one year in the late '30s when Ketchikan held fairs out by City Park, he and some friends got their hands on some Virginia Dare wine and got looped. He remembered lying across the tracks of the little railroad in the damp darkness, so sick he hoped the little train would run over him.
But he was not a big sinner either. By the time he and his friends hit 16, they were working, at least part time, and making their own money. There was lots of work, volunteer and paid, in Ketchikan in those days. There still is, in the summer. Back then, however, it was not tourism but the fishing industry that provided jobs. Older boys, Ralph among them, were hired as fish trap watchmen. At 17, he spent one whole summer sitting on a trap out of Kake and at the end of the season tallied seine fish after the trap season was over.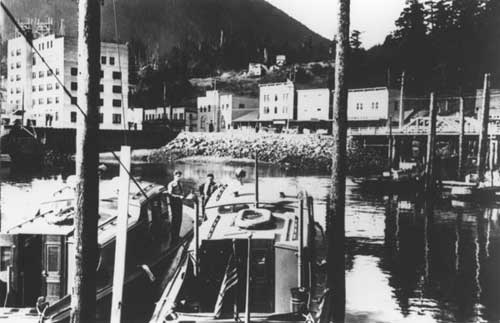 Army Air Corps Crash Boats at Thomas Basin, 1942
Donor: Estate of Ralph M. Bartholomew, Ketchikan Museums
---
A trap watchman, Ralph explained, lived in a shack on the floating trap. He had to keep the kelp and drift cleaned out to make sure the trap gates were opened or closed on time. "The main thing was that there was somebody there so trap robbers, the fish pirates, didn't come and take your fish. You had to do your own cooking and be out there about six weeks. We had to help with brailing when the tenders came out and keep things repaired. You had a boat to row to shore." The following year he was on the piledriver that put in the last pile traps that were used in Southeast Alaska, he said.
The United States declared war against the Axis powers in December1941 when Ralph was 18. He had just left town that fall to attend college in Texas - convinced by a friend that Texas was where to find sunny weather and good looking girls. At the news of war he returned home and joined the Army Air Corps, serving for four years in a crash boat crew, much of the time in the Alaska theater of war in the Aleutians. It wasn't until he returned home that he took flying lessons on the GI bill and was finally able to indulge his passion for flight. He even courted his wife-to-be in an airplane.
At war's end he returned to Ketchikan, lived independently as a volunteer in the fire station on Main Street and worked for his father at Ireland Transfer & Storage. Ketchikan had its own war stories to tell! His mother, Laura, told of hanging out the laundry one day when she saw Bolingbroke bombers from Annette Island coming. So she ran for the house and said the laundry was almost torn off the clotheslines! Ralph explained that many of those pilots at the Canadian-American air base at Annette were 50-mission men from the Battle for Britain, men who had been sent to the Annette base for R&R, where they flew comparatively tame submarine patrols offshore. "These were apparently highly qualified and slightly bored pilots and probably just having fun. They'd come around Pennock Island, right on the water, and the spray would be coming from their propellers they'd be so close. The ones my mother saw had come up Main Street, their wings almost down to street level, just above the telephone and power lines! That's why she ran for the house!" The city fathers were not amused and after a time the military made sure the practice was stopped.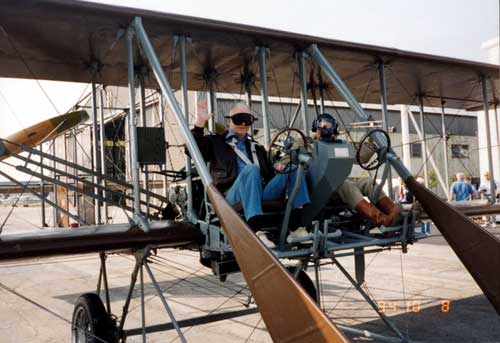 Ralph M. Bartholomew about to take off in a " Wright B" Flyer - October 8, 1994
Donor: Estate of Ralph M. Bartholomew, Ketchikan Museums
---
At war's end, Ralph's years as a family man and community volunteer were just beginning. He worked for his dad at Ireland Transfer, the business Ralph Arthur bought in 1930. After he married, he and his wife, Erma, bought a house on Madison Street and raised their family, a family that included, in addition to daughters Leslie and Janet, yet another Ralph, Ralph Gordon Bartholomew. These years were whole new chapters in Ralph MacLeod Bartholomew's life. His years as volunteer foremen led to becoming Fire Chief, serving in that capacity during the frightening period of the Firebug arson fires and the eventual arrest and conviction of the firebug.
When Ralph was sworn in as Gateway Borough Mayor in 1990, Ketchikan had grown from the little town of 2,000, back in 1915 when his father and grandfather arrived, to a community of 13,828 counted in the U.S. census. To him, it was "Ralph's town" and he loved it. In 1996, at age 73, he closed the doors of Ireland Transfer and retired. He died in his sleep just a year later. He was buried from the Methodist Church and lies at rest at Bayview Cemetery.
Addressing his critics, he once said, "I was born in Ketchikan and raised here and I probably get too proprietary of the community because I am of it and part of it." He still is, a large part of Ketchikan's story.
Thanks to Ketchikan Friends of the Library for permission to use parts of Patti Mackey's excellent interview with Bartholomew conducted for the Oral History Project in 1993.
---
This June Allen Story Is Made Possible In-Part By These Sponsors:


| | | |
| --- | --- | --- |
| | | |
| | | |


june@sitnews.org
Copyright © 2003 June Allen
All rights reserved.
Not to be reprinted in any form without the written permission of June Allen.
Post a Comment -------View Comments

Submit an Opinion - Letter

Sitnews
Stories In The News
Ketchikan, Alaska