A Story of an Unfriendly Arctic Island
And the heroine who survived it
By June Allen
February 02, 2004
Monday - 1:00 am

There is a desolate island in the Chukchi Sea on the frigid top of the planet. It is 83 miles north of the coast of Siberia and it is named Wrangel Island - Wrangel with one L. It is roughly kidney-shaped and said to be about 80 miles long and 18 to 30 miles across, with a cluster of low mountains at its center. During the warmth of its very brief summer, rivers flow north and south over rolling tundra to the sea. Along the frosty riverbanks are buried the bones of a race of woolly mammoths, evidence of dwarfed survivors of a larger race of Russian Steppe mammoths of perhaps 20,000 or 30,000 years ago. The island today is inhabited by a tiny Russian-Eskimo settlement and is largely visited by polar bears, seals, foxes, ducks and geese and the occasional scientist from around the world.
There are two Wrangel/l Islands in our north country, both named for Baron Ferdinand Wrangel, the fifth Russian-Alaska Governor (1830-1835). He was the popular "conservationist" governor, and the first to bring a wife to Sitka where, as First Lady, she tamed the rowdy male population by insisting on good manners and that Russian men legally marry their Native wives.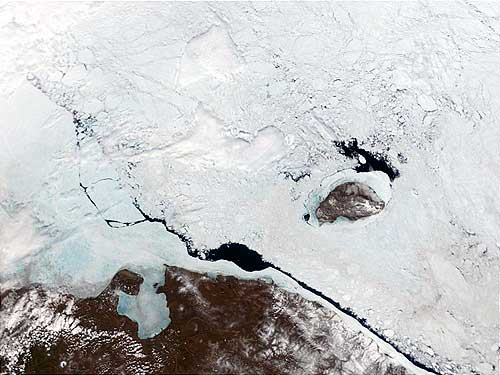 This true-color image captured by MODIS on June 5, 2001 shows Wrangel Island, which is located off the northern coast of Eastern Siberia and straddles the East Siberian Sea and the Chukchi Sea.
Credit: Jacques Descloitres, MODIS Land Rapid Response Team, courtesy NASA...

The better-known Wrangell Island in Southeastern Alaska, just north of Ketchikan, is spelled with two Ls. It too was named in the Russian governor's honor in 1835 when he directed his men to build a fort at the mouth of the Stikine River. Named Redoubt Dionysus, it was designed not only to keep the Russians' local trading-partner Indians in line but more specifically to keep the British Hudson's Bay Co. out of Russian-American trade lanes.
The lesser-known Wrangel Island, however, spelled with one L, was said to have been named in a younger Wrangel's honor years before his Alaska governorship, when he was part of a Russian exploration party that sighted it. That uninhabited scrap of Chukchi Sea real estate was later "discovered" by a British expedition in 1867, marked on charts and promptly forgotten. Its name then turned up in news reports of a tragic 1916 Arctic expedition. But it wasn't until 1923 and another failed Arctic experiment that the whole world heard news stories about the barren little island and its lone inhabitant. To this day the name Wrangel Island will always be associated with a shy little Alaska Eskimo woman from Nome, a young widow and mother with the memorable name Ada Blackjack.
In the summer of 1923 a hungry and worried Ada Blackjack stood on the shores of that forlorn little island in the Chukchi Sea and each day watched south and east for sight of a dogsled or a rescue ship. Three of her four companions had mushed out over the winter ice in January of that year to seek help in Siberia. They vanished without a trace. The fourth man had died, probably of scurvy, in June and Ada had chipped away at always-frozen ground to bury him in a shallow grave. She was frightened to death of the polar bears that snatched away most of the sea life she managed to kill. Supplies of staples had long since been exhausted.
Ada's husband had drowned shortly after their marriage and she was solely responsible for their little son. As she stood helplessly on the island, hoping for rescue, she was terribly worried about her little boy, Bennett, who was being treated for tuberculosis in a Nome mission hospital. Ada Blackjack was just 25, born May 10, 1898, in the village of Solomon just east of Nome - before there was a Nome. Her name at birth was Delutuk. But she became world famous as Ada Blackjack, her married name. It wasn't until August 19 of 1923 that a rescue ship would finally be able to navigate through the churning ice floes to save the weak and frightened little survivor of unknown horrors and take her back to Nome and her little boy.
When she signed up for the expedition in Nome in 1921, Ada Blackjack had innocently trusted the expedition's leader, well known author and Arctic explorer Vilhjalmur Stefansson. The famous man was a natural-born adventurer and enjoyed his treks across the top of the world. And Canadian Stefansson also shared a curious belief with many of his contemporary free thinkers and polar adventurers, a conviction that was part of the reason for his many Arctic explorations. It was this: That at the very top of the world, where the rotation axis spears the globe, was an entrance to another and warm inside-the-earth world! He wished to be the one to find that world or at least the one to have opened the door to the possibility.
While it sounds ridiculous today, the belief in a hollow earth may in part may have been based on primeval myths and legends of a once-warmer northland. There is, as well, scientific evidence in the arctic regions of fossils of extinct creatures from ages past that were more suited for warm climates than today's chilly Alaska - horses, camels, even tigers and others. And maybe the hollow earth belief was partly because of the popularity of forward thinking authors, the sci-fi writers of the day, like H.G. Wells and others. Whichever, in his day, Stefansson accepted the hollow-earth theory on faith.
He also optimistically and perhaps foolishly but firmly believed that the polar regions of the earth were routinely friendly to men, and thus his second book The Friendly Arctic (1915). It is the story of his lengthy solo trek early in the 20th century across northern Canada and Alaska, through the seasons. Along his route he stayed with welcoming Eskimo families, shared their diets or caribou, birds, seal, whale. He followed their suggested travel routes and apparently believed firmly that Arctic travel held few perils for the courageous. Game was plentiful for an all-meat diet. Eskimos were hospitable, he was convinced.
His books, My Life with the Eskimos and The Friendly Arctic were popular, financial successes. With some of the books' royalties, plus donations, he organized a 1916 expedition that, after much anticipation and publicity, ended in tragedy with loss of life for some and unspeakable hardship for others. Undaunted, Stefansson recruited another, smaller party in 1921 to establish a post on Wrangel Island. Experienced and leery northern adventurers declined his invitation to join the team. But three young Americans and one Canadian were eager to share the adventure. The Americans were E. Lorne Knight and Frederick Maurer, both 28, and Milton Galle, 20. The Canadian, and designated leader of the team, was Allan R. Crawford.
The fifth member was Ada Blackjack, hoping to make enough money to properly care for her ailing son. She had been told by Stefansson or his associate that she would join Eskimo families also signed up for the trip. The plan was for the Eskimo men to hunt and the women to sew boots and clothing. But when the vessel Silver Wave was ready to be boarded for the voyage, the Eskimo families failed to appear. Ada Blackjack decided then not to go either, but she was promised that the ship would stop at an Eskimo settlement en route and take on other Eskimo families, so she agreed to go. But the ship didn't stop en route.
When the Silver Wave arrived at Wrangel Island on Sept. 16, 1921, it carried supplies for only six months - the first winter, Stefansson believing the island teemed with game to stretch the larder. The first item of business ashore was to "claim" the island for England and shout "God Save the King!" The four men, and Ada, were told a supply ship would be back the following summer of 1922. They waved the ship goodbye and set up a tent, then built a sturdy snowhouse. Diaries related that in the spring of 1922 they managed to kill 30 seals, ten polar bears and many geese and ducks - meat seemed to be plentiful and they expected the supply boat from Nome at any time.
But a cold summer stretched into autumn and no vessel appeared. They were running short of coffee and tea, sugar, beans, flour and tinned goods by early that winter in spite of careful rationing. That autumn and winter game was not so plentiful and Lorne Knight was not well. What had started out as a bright adventure had dimmed into a seriously troubling position. On Jan. 8, 1923, fearing the possibility of starvation, Knight and Crawford took the dogs and headed for Siberia to get help, but they returned not long after because Knight was simply too ill to travel. Then on Jan. 28, Crawford, Maurer and Galle left for Siberia with the dog sled packed with a large share of the remaining supplies, leaving Knight and Ada Blackjack behind. The three men were never seen again.
That left Ada Blackjack alone with the seriously ill Lorne Knight. Ada herself was feeling the weaknesses of scurvy. But she did her best to tend to the sick man and feed them both. By February he was too weak to leave his bed. She had to hunt, but she had never fired the .22 rifle or the camp's shotgun. She knew she had to learn if she were to survive. And learn she did. She shot ducks and seals and white foxes and made stews and broth and held on.
She kept a fire going, a bag of warmed sand at Knight's feet, and sewed empty supply sacks into pillows and filled them with cotton to ease his bedsores. Knight became too weak even to sip the duck soup she made for him. But he never complained, Ada said later. She read the Bible to him and cried for him. But he died June 22, 1923. The little Eskimo woman buried him as well as she could.
Ada Blackjack then found herself all alone, on an island in the middle of the Chukchi Sea. She hunted and waited through all of July. In August she realized she was getting weaker and weaker. She was living on hardtack and what little tea she had managed to put aside. It was a desperate time. She is quoted as saying later, "It is hard to talk about what you feel when someone dies and you are alone."
But on August 23 the relief ship Donaldson arrived. They found no one on Wrangel Island but a hollow-eyed Ada Blackjack. The ship's crew dug a deeper grave to bury Knight. They had arrived with a band of Eskimo settlers, both men and women, with hopefully adequate supplies. The captain and crew left with Ada and the diaries left by the vanished men of the expedition.
But the Eskimos left behind on the unlucky island suffered a tragic fate, too. A year later a Soviet ship's crew came ashore, planted the red flag of the Soviets and took the Eskimo settlers off the island. Although it was a long journey home, eventually most of them reached Alaska again.
On reaching Nome, Ada Blackjack took her son out of the hospital and traveled with him to Seattle, to California and later back to Alaska. In Alaska she married a man named Johnson and bore another son. She named him Billy. Eventually she divorced her husband and she and the boys returned to Nome. Billy cared for Bennett even after Ada became ill.
On May 29, 1983, Ada Blackjack Johnson died in the Palmer Pioneers Home and was buried at Anchorage Memorial Park Cemetery. She was 85. Of the early-century adventurers, that courageous little Eskimo woman was the one who survived them all. On her grave are the words, "The Heroine of Wrangel Island."
Information from various Internet sources and via a personal interview with Ada Blackjack by Seattle Times Reporter Stanton Patty in 1972. My thanks to Mr. Patty.
Related story, including a photograph of Ada Blackjack:
The Heroine of Wrangel Island by Alexandra J. McClanahan, CIRI Historian - LitSite Alaska is a project of the University of Alaska Anchorage and the Alaska Literary Consortium, funded in part by a grant from the National Endowment for the Arts.



---
This June Allen Story Is Made Possible In-Part By These Sponsors:


| | | |
| --- | --- | --- |
| | | |
| | | |

june@sitnews.org
Copyright © 2004 June Allen
All rights reserved.
Not to be reprinted in any form without the written permission of June Allen.
Post a Comment -------View Comments

Submit an Opinion - Letter

Sitnews
Stories In The News
Ketchikan, Alaska