First Peoples Of The Tongass - Historical Photographs
Kyan Totem Pole
Ketchikan, Alaska
November 04, 2002
Monday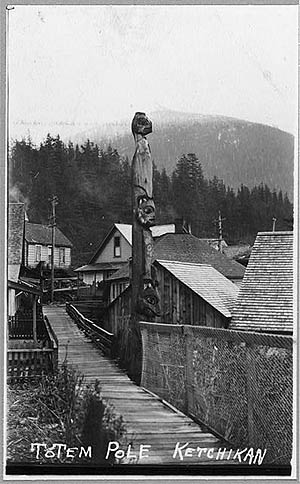 Totem Pole - Ketchikan - Ca. 1916-
Forms part of: Frank and Frances Carpenter collection
(Library of Congress).
Gift: Mrs. W. Chapin Huntington; 1951.
Historic Photo Courtesy of the Library of Congress
Prints and Photographs Division - Washington, D.C.--
---
According to information provided by a Sitnews' Reader, this photo is of the Kyan totem pole, which was erected in the late 1890s by George Kyan. The earliest photograph of the pole that can be accurately dated was taken by Pillsbury in 1898.
The pole was, in fact, on Barney Way, right about where the front door of Moggie's is now.
This photo was taken in the late 'teens. Around 1920, the pole was restored and re-erected in front of the Pioneer Hall. One can still find brass letters in the sidewalk, just off Front Street, alongside City Hall, that read " Kyan Totem Pole."
The pole is no longer there. A replica, carved by Stan Marsden in 1964, stood at Main & Pine Streets until 1992, when it was removed to the Totem Heritage Center. A new replica, carved by Israel Shotridge, was erected in Whale Park in 1993.
Post a Comment -------View Comments
Submit an Opinion - Letter

Sitnews
Stories In The News