Garza Presents Subsistence Gathering Program
National American Indian Heritage Month Celebrated With Special Programs
Story & Photos by Gigi Pilcher

November 14, 2002
Thursday - 12:45 am

In celebration of National American Indian Heritage Month the Southeast Alaska Discovery Center presented a special program on subsistence gathering on Tuesday evening,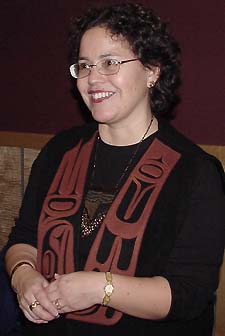 Dr. Delores (Dolly) Garza

November 12th, at the Discovery Center.

Ketchikan residents, young and old alike, were treated to a very informative program as well as culinary delights by Dr. Delores (Dolly) Garza, a Professor of the University of Alaska Marine Advisory Program.

Gayle Nixon of the Southeast Alaska Discovery Center introduced Professor Garza, and the Professor addressed the crowd in her maternal language of Haida and followed Native tradition by giving homage to her house and clan.

Dr. Garza's informative presentation included a slide show of the various food items that are staples in the traditional diet of Southeast Alaska Native peoples and she spoke about the areas throughout Southeast Alaska where the foods could be harvested.

Professor Garza said that subsistence gathering begins in the spring and continues through early fall with the food being dried or smoked to last through the winter months. The month of March marks the beginning of subsistence gathering with herring roe on kelp or roe on hemlock branches. She said that areas around Sitka are most plentiful and the harvesters share the roe with others who do not have access to boats or can't go out to gather.

Dr. Garza also shared information about:
Different types of sea weed, when and where it is gathered.
How ball kelp was used to hold such things as ooligan grease.
Beach asparagus - both a traditional Native food and prized by gourmets world wide - which can be gathered in July around Ketchikan and on Prince of Wales Island.
Devil's Club which is used as a tonic, in ointments and as a medical drink for illnesses such as diabetes and cancer.
Hudson Bay tea - also known as Labrador tea - which is used for medical purposes and found all over Revilla Island, especially around the Ward Lake area.
In July, Garza said that dip netting for sockeye salmon begins and the salmon is dried or smoked. Blueberries, salmon berries and elder berries are also picked and dried to last the winter.

After the slide presentation, Dr. Garza invited the crowd to taste some of the delicacies she spoke about.

Dr. Garza is Haida and Tlingit. She was born and raised in Southeast Alaska and learned subsistence gathering as a child growing up in Hydaburg and Ketchikan. Garza is author of a national award-winning, two-volume curriculum called "Outdoor Survival Training for Alaska's Youth" which includes a student workbook and teacher manual. She also wrote the booklet "Surviving on the Foods and Waters of Alaska's Southeast Shores." For her work on "Tlingit Moon and Tide Teaching Resource", Professor Garza won the 1999 American Book Award, sponsored by the Before Columbus Foundation.

For more information about Dr. Garza or subsistence gathering:
Marine Advisory Program - Profile: Dr. Dolly Garza

Alaska Native Science Commission - Dolly Garza
Upcoming Events:
Southeast Alaska Discovery Center: Schedule of November's events Celebrating National American Indian Heritage Month





Post a Comment View Comments

Submit an Opinion - Letter

Sitnews
Stories In The News