Goblins, ghosts, and witches sighted in Ketchikan
Story by Gigi Pilcher - Photos by Gigi Pilcher
Send your Halloween photos of decorations and costumes to Sitnews for publication.
October 28, 2002
Monday - 12:50 am

Tom and Jean Stack's yard at 2721 Third Ave is ready for this year's trick or treaters.
Since 1993 Jean Stack has decorated to the delight of her neighbors, young and old alike.
Last Sunday, Jean along with her daughter in law, Michelle Stack, spent two to three hours getting most of the decoration up. Thursday more time was devoted to adding additional items and Jean say she'll be adding more to the display on Halloween Day.
"I just love the way kids act when they come and see the yard and house. I love seeing kids with wide eyes looking at everything. Their parents always thank me for my efforts. This year is really special because my grandson Terran Stack is now old enough to really enjoy Halloween " said Jean Stack. (Stack Photos)
Nancy and Roger McDonald's yard and home at 2336 Second Ave sports "haunted humpies" swimming through cob webs along with Nancy's famous tree witch.
Nancy has been decorating their home and yard for over twenty years twenty. Husband Roger McDonald said "Nancy loves doing it. She is really a kid at heart". Nancy can be seen dressed up as a witch on All Hollow's Eve to pass out treats. (McDonald Photos)
Outside the city limits, a South Tongass residence displays a tree full of colorful goblins to greet trick or treaters. (South Tongass Photos)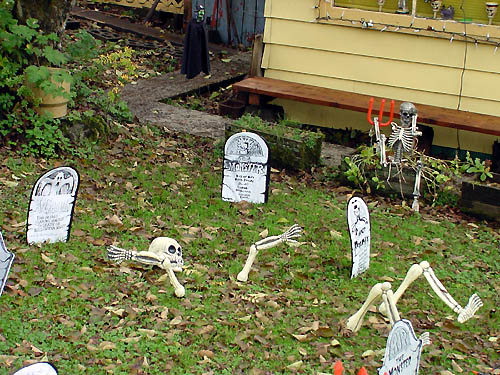 Tom and Jean Stack's yard...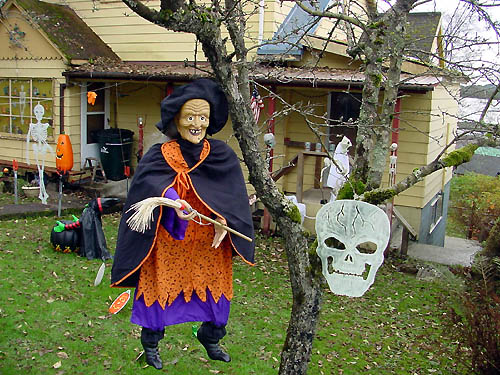 Tom and Jean Stack's yard...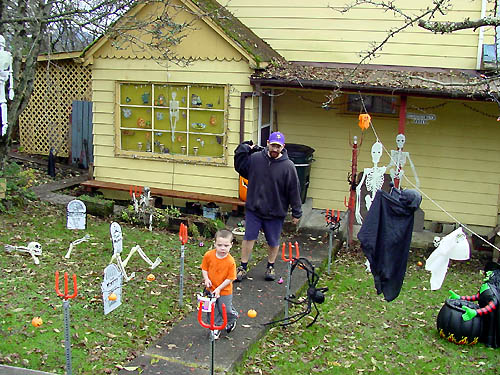 Terran Stack walks through his grandparents yard with dad Pat Stack.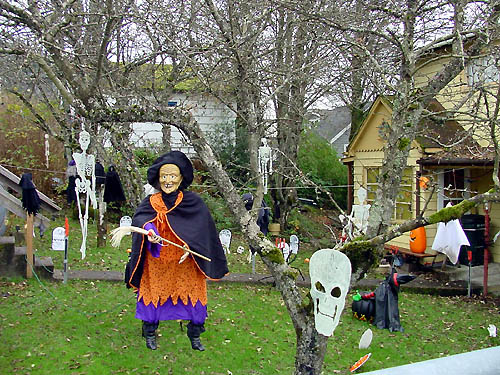 Tom and Jean Stack's yard...
Click on this link to view the photos of McDonald's Halloween Decorations...Page 2
Click on this link to view the photos of the decorations on South Tongass...Page 3
Post a Comment View Comments

Submit an Opinion - Letter

Sitnews
Stories In The News