"Wind" Expresses A Longing To Be Back Outside
Art Designed by Donny Varnell for Youth Facility
Photos & Story by Gigi Pilcher
July 01, 2003
Tuesday - 12:30 am

Bright and beautiful things unfolded at the Ketchikan Regional Youth facility several months ago as Ketchikan Alaska Native carver/artist Donny Varnell of the Haida Nation hung his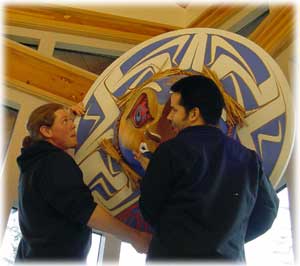 Donny Varnell & Stephen Jackson

work of art, "Wind", at the facility. The installation of the piece was the cullmation of months planning and two and a half months of carving by Varnell.

Varnell described his piece as "contemporary" Native art yet "traditional" pop culture". Varnell said he got his vision for the piece when he came to the facility and spent time walking around inside. The feeling he got was "I want out of here, I need space". Varnell said " the first thing I felt walking into the new youth facility was the longing to be back outside. We made our way into the left wing and as the group walked down the hall, I leaned against a shelf and gazed out of the large windows. There, the alder trees swayed where I wanted to be, with my hair in the wind."

The hanging of "Wind" required meticulous detail, an artistic eye along with a lot of "muscle". Assisting Varnell with the placement were Ketchikan residents, Stephen Jackson (Tlingit) and Tom Scott. For over five hours, Varnell, Jackson and Scott measured, drilled, and climbed up and down ladders as Superintendent Ron Barnes and other facility staff looked on.

This dynamic piece of art consists of three separate pieces. The main piece is the red cedar disk that the carved mask "Wind" is attached to. Two smaller pieces are the arms of the wind and they are hung separately but next to the face.

Stephen Jackson who assisted with the placement of "Wind" is a graduate of K-High Class of 1994 and is the son of Alaskan Native artist/ master carver Nathan Jackson. His mother Dorica is well known for her weaving. Jackson, a carver himself, is currently carving a totem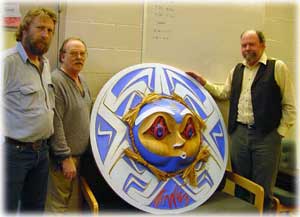 Left to right: Wayne Weihing,
Ron Barnes and Steve Dempsey

pole at the Burke Museum in Seattle, Washington. Scott is a life long Alaskan resident, K-High graduate Class of 1990.

Varnell has an impressive list of work, both carvings and baskets. Many of his pieces have been exhibited and are now part of museum collections in both Zurich, Switzerland and Indianapolis, Indiana.

Varnell apprenticed under Haida master carver, Reggie Davidson in Masset, British Columbia and under his maternal aunt, Holly Churchill of Ketchikan. He has worked under the supervision of master carver Nathan Jackson (Tlingit) on five totem pole, two which are part of private collections, and three that are in museums, including his work on the "Honoring Those Who Give" at the Totem Heritage Center in Ketchikan. He was the resident carver at the Edwin DeWitt Carving Center in Saxman from 1998-2001. In 1998 Varnell carved a mask with David Boxley (Tsimshian).

Under the supervision of Reggie Davidson, Varnell has worked on two totem poles, one raised in the Bahamas in 2001 and another raised at the 2000 Expo in Hanover, Germany. Varnell has worked under the supervision of carver Will Burkhart (Tlingit) on the 40 by 13 foot Eagle/Raven panel for the Long House in Sitka, Alaska.

In 2002 Varnell attended the Ketchikan Totem Heritage Center's Northwest Coast Native Arts Studies Program : Northwest Coast Design with Duane Pasco.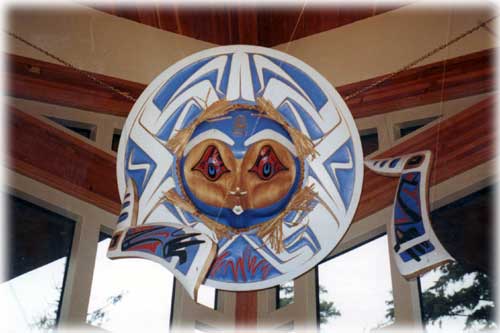 "Wind" by Ketchikan Alaska Native carver/artist Donny Varnell of the Haida Nation
Donny Varnell was born in Ketchikan and is the son of former Ketchikan residents, April Varnell and Tom Varnell. He is the great grandson of the late Selina Peratrovich of the Haida Nation who was a world renowned traditional cedar bark basket weaver. Varnell is the grandson of Ketchikan resident and famous Haida cedar bark basket weaver and teacher, Delores Churchill. He is also the nephew of Haida cedar bark basket weaver and instructor, Holly Churchill.
Varnell is a 1992 K-High graduate, attended the University of Alaska, Fairbanks where he studied visual art. Varnell currently divides his time between Alaska, British Columbia and Washington. He will return to Ketchikan for the formal dedication of "Wind" and the hanging of a new piece of art at the Youth facility in early August.





Post a Comment View Comments

Submit an Opinion - Letter

Sitnews
Stories In The News
Ketchikan, Alaska