Negotiations Net Over $6 Million In Funding
For KIC Health Clinic
May 20, 2003
Tuesday - 12:30 am

Ketchikan - The Ketchikan Indian Community (KIC) Tribal Council and Staff were in Anchorage for the week of May 11th for the final negotiations for KIC's annual Health Clinic funding which resulted in a total of $6,343,834.00.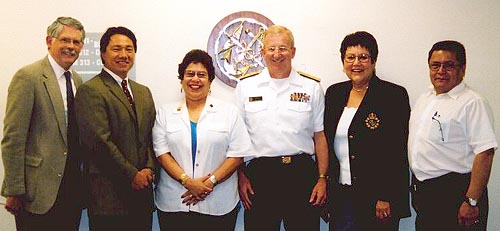 KIC/IHS negotiators: James Armbrust, Christopher Mandregan, Marly Edenso, Gary Hartz, Stephanie Rainwater-Sande and Norman Arriola.
Photo courtesy KIC
According to a news release, the unique process of funding negotiations stems from the long-standing relationship between the Federal government and Indian/Alaska Native Tribes (also known as the "Co-signers of the Alaska "Compact, or Agreement), and involves both separate and joint meetings between the government and tribal government representatives. The Federal Government was represented as a "lead negotiator" for the Indian Health Service ("IHS) by Jim Armbrust of the Alaska Area Native Health Service. Once full agreement was reached between the parties, Admiral Gary Hartz of the U.S. Public Health Service, who was also present in Anchorage, ratified the Compact on behalf of the Department of Health and Human Services (IHS is within the Department of HHS).
The method for finding the middle ground required the consensus of all Co-Signers on statewide matters in addition to funding, such as: The operation of Alaska Native Medical Center Hospital in Anchorage, Administrative Support, Information Services, Human Resources, Purchasing, Biomedical Equipment Servicing, and other areas. These issues are then discussed face-to-face with the lead negotiators of each side. Lead negotiators for the Co-signers were Sally Smith from Bristol Bay Native Health Corporation and Valarie Davidson from Yukon-Kuskokwim Health Consortium.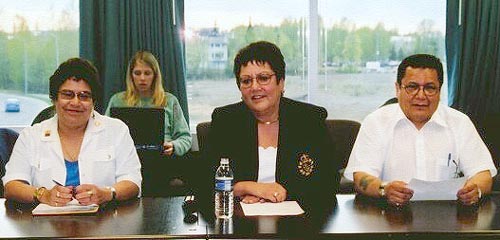 KIC leadership negotiating team: Marly Edenso, Stephanie Rainwater-Sande and Norman Arriola. In this picture,
the Team is ready to negotiate face-to-face with the IHS representatives.
Photo courtesy KIC
With the individual Service Unit agreements such as the Compact between Ketchikan Indian Community and the IHS, across-the-table negotiation sessions were also engaged. In this process, the elected Tribal Government representatives negotiated with Mr. Armbrust and Admiral Hartz. Elected Tribal Government representatives President Stephanie Rainwater-Sande, Treasurer Marly Edenso and Health Board Chair Norman Arriola were assisted by staff members David Landis, Interim General Manager, and Sara White, R.N. Contract Health Coordinator.
The schedule for Final Negotiations called for meetings to be held from 8 a.m. to 8 p.m. daily Monday through Friday. In addition, workgroups and sidebars were formed and met outside of these hours. According to information provided in a news release, historically some of these meetings have lasted into the middle of the night.
Statewide funding and operational issues regarding Native Health for all Tribes and Health Consortiums were also decided during these negotiations.
Regarding the 2003 KIC individual Final Negotiations netting a total of $6,343,834.00, President Rainwater-Sande stated that she was very pleased with this amount of funding. Rainwater-Sande said this amount represents the Funding Agreement total, but excludes any third-party revenue or grants received. These amounts are expected to be in excess of $2,000,000.00 for this fiscal year which should allow for an increased level of service for the Tribal membership, she said.
Norman Arriola stated that it was a pleasure during this trip to represent the Tribe through both the Tribal Council and the Health Board.
Source of News Release & Photographs:
Ketchikan Indian Community
Web Site




Post a Comment View Comments

Submit an Opinion - Letter

Sitnews
Stories In The News