Forest Service Awards New Air Contract To Taquan Air
April 23, 2003
Wednesday - 12:20 am

Ketchikan, AK - Taquan Air announced on Tuesday that a three year contract for floatplane services in southern Southeast Alaska has been awarded to Taquan Air by the United States Forest Service, effective this month.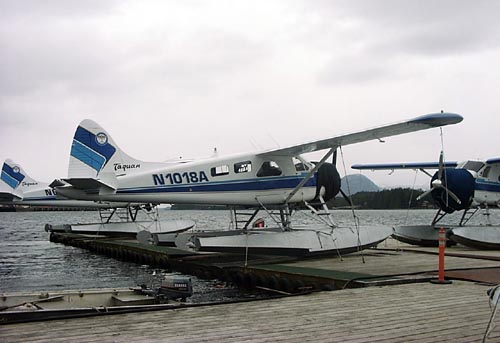 Three of Taquan Air's DeHavilland Beavers
photo by Dick Kauffman
Forest Service solicitations for the contract state that evaluation of bidders is based on the carriers safety record, support capability, aircraft specifications, flight crew experience, business practices, past performance and price. The award of this contract is important to the success of Taquan Air, said company president and CEO Brien Salazar. Forest Service needs keep some of our aircraft working year-round, enabling us to keep more pilots and support staff employed, he stated. Taquan Air was also the prior Forest Service floatplane contractor.
Taquan Air provides year-round scheduled passenger, freight and mail service to 18 communities out of Ketchikan and has flightseeing contracts with most of the major cruise lines during the summer months.
Source of News Release:
Taquan Air
Web Site




Post a Comment View Comments

Submit an Opinion - Letter

Sitnews
Stories In The News