Matilda Kushnick Named "Tlingit & Haida Citizen of the Year"
April 18, 2003
Friday - 9:45 am

April 11th was Matilda Kushnick's day for recognition for her 22 plus years of serving in the Tlingit & Haida Saxman Community.

Tlingit & Haida's Saxman and Ketchikan Chapter nominated Matilda "Tillie" Kushnick for "Citizen of the Year" at this year's Tlingit & Haida General Assembly of Delegates Convention held in Sitka.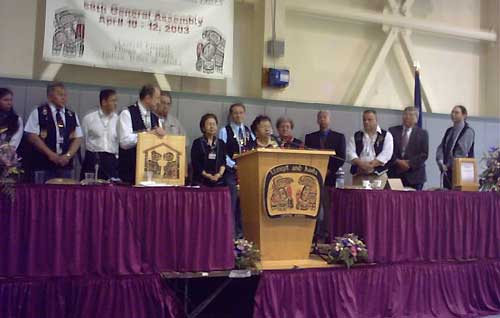 Matilda Kushnick, at the podium, is honored as "Tlingit & Haida Citizen of the Year". Standing behind Kushnick is Ed Thomas who is the President of the Tlingit & Haida Central Council. Holding the plaque is Dr. Blake Kazama. Also pictured are the Board of Commissioners. Photo by Carrie L. James
The Ketchikan Delegate, Carrie L. James who is Kushnick's niece and the source of this news, spoke at the General Assembly of the many lifelong achievements fulfilled by Kushnick.
Matilda Kushnick is known as "Tillie". She is an elder of Saxman and proudly represents the community in various capacities. Kushnick is Double Headed Raven & Dog-Salmon Clan from Kuiu Island. She is the mother of 15 children and has 67 grandchildren & great grandchildren.
A few of Kushnick's contributions that have made a difference and impacted many lives in the Saxman & Ketchikan and other surrounding communities are:
On the Board of Commissioners of Tlingit & Haida Regional Housing Authority and currently serving as the Vice Chairman and has been with the Housing Authority for 22 years.
Board of Director for Cape Fox Corporations as secretary/treasurer and has been on the CFC board for over 20 years.
Camp Mother for Alaska Native Sisterhood Camp #15 and a lifetime member.
Serves on the S.E. Native Subsistence Commission as a representative for the Village of Saxman and a subsistence fighter for all of Alaska.
A cultural teacher of the subsistence ways and life style for gathering food and preparations.
A retired nurse from Ketchikan General Hospital.
A commercial fisherman.
A student of anthropology & archeology from the UAS Ketchikan Campus.
Along with being elected "Tlingit & Haida Citizen of the Year", Central Council President Edward Thomas, Dr. Blake Kazama and the Board of Commissioners presented gifts and comments honoring Mrs. Matilda Kushnick for her 22 years of service on the Tlingit and Haida Regional Housing Authority Board. Matilda "Tillie" Kushnick was one of the key players responsible for getting over 500 homes built in communities in Southeast Alaska.

Other nominees for Tlingit & Haida Citizen of the Year were Gerald Bennett of Juneau and Joe Bennett, Jr. of Seattle.





Post a Comment View Comments

Submit an Opinion - Letter

Sitnews
Stories In The News