Celebration Held To Welcome Members of Llanos Family Home
by Gigi Pilcher

February 03, 2003
Monday - 12:30 am




Ketchikan, Alaska - Last Thursday evening the laughter of children filled the 429 Deermount building as members of the Llanos family were treated to a celebration dinner by the Alaska Native Brotherhood and Alaska Native Sisterhood Camp 14 .

The event was held to welcome home Christopher Llanos and his mother Jessica Llanos from Seattle, Washington where Christopher was undergoing treatment for leukemia. There was also good news to celebrate as Christopher is currently in remission and his family says that it looks as though he may not need to return to Seattle again for two years.

Members of the ANB & ANS Camp 14 prepared the celebration dinner and there were many members of both Camp 14 of Ketchikan and Camp 15 who attended the welcome home celebration. Ketchikan elders, including life-long ANS and ANB members Willard and Mary Jones, were in attendance.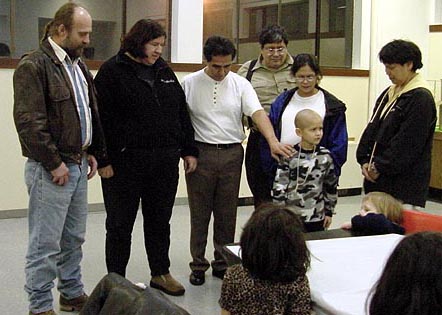 ANB Camp 14 President Willard Jackson and ANS Camp 14 President Merle Hawkins greeted the family and opened the evening with a prayer of thanks for Christopher's safe return home and his successful treatment.
Photos by Gigi Pilcher




Post a Comment View Comments

Submit an Opinion - Letter

Sitnews
Stories In The News