Work Resumes On KIA's New West Taxiway
by Dick Kauffman
January 22, 2003
Wednesday - 9:20 am

Work on Ketchikan International Airport's new West Taxiway C resumed last week when Glacier State Contractors from Juneau returned to Ketchikan after taking a holiday break.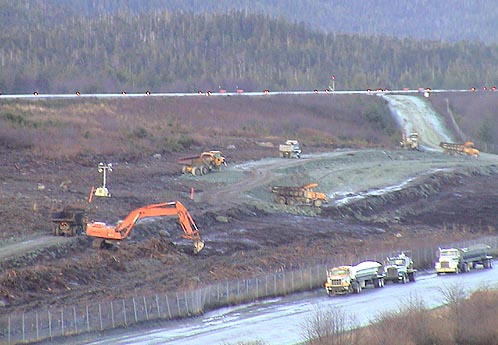 Construction on New West Taxiway C
Photo by Dan Hart 01/14/03
According to Lance Mertz, the airport's Business Operations Manager, dynamite blasting is scheduled every Tuesday between 1 - 2 pm for the next 26 weeks. Glacier State Contractors will be hauling between 900,000 and 1 million yards of fill from the rock pit to the taxiway. Mertz said on Tuesday the construction will not affect aircraft operations or cause any delays.
Erickson Electric, Inc. of Ketchikan is the sub-contractor for the electrical work. Erickson Electric will be installing the underground electrical cables and the new taxiway lights.
The new taxiway is expected to be completed by October 2003. The Federal Aviation Administration's 'Airport Improvement Fund' will pay the $8,000,000 construction cost.

Post a Comment View Comments

Submit an Opinion - Letter

Sitnews
Stories In The News